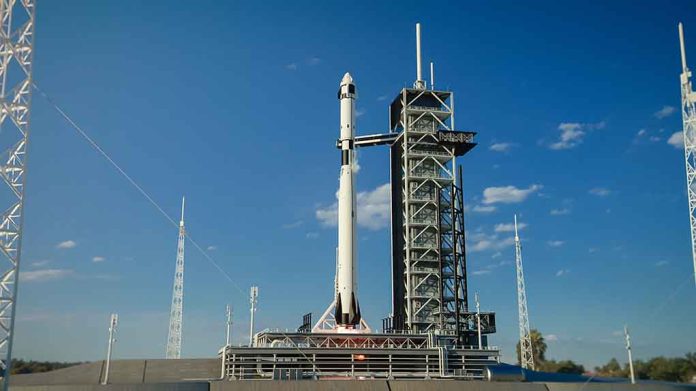 Rocket Ordered to Self-Destruct
(ConservativeInsider.org) – While space exploration, satellite positioning, and walking on the moon are all incredibly cool, such ventures take enormous amounts of technology and groundwork. Somehow, despite hours of preparation, even the best-laid plans involving these things sometimes end in ruin. Such was the case recently with a Japanese Epsilon-6 rocket soon after it took off.
On Wednesday, October 12, the Japan Aerospace Exploration Agency (JAXA) launched its new rocket, trying to put eight new satellites into orbit. However, seven minutes after it left the Uchinoura Space Center in Kagoshima, officials ordered it to self-destruct because it wasn't following its intended path.
#UPDATE Japan's space agency sent a self-destruct order to its Epsilon rocket after a failed launch

The unmanned rocket, which has successfully launched five times, was taking satellites into orbit to demonstrate 'innovative' technologieshttps://t.co/1zLrmTyLys pic.twitter.com/5tIzwXPuqY

— AFP News Agency (@AFP) October 12, 2022
At the end of its descent after its self-destruct protocol, the Epsilon-6 rocket fell into the sea. No one was injured in the incident.
One of the technologies on board was a microsatellite named Magnaro. Takaya Inamori, an associate professor of Nagoya University's School of Aerospace Engineering, expressed his disappointment in the failure as he hoped it would have been an opportunity to "demonstrate new technology," according to Kyodo News.
This failure to successfully launch was the first time this has happened to a JAXA operation since 2003 and marks the first Epsilon-6 to fail. However, the agency will soon begin phasing this rocket out for a new version, the Epsilon-S.
Copyright 2022, ConservativeInsider.org