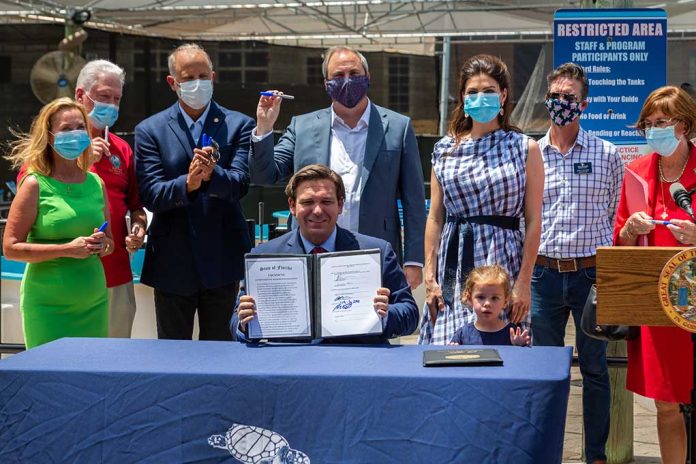 Insiders Reveal How Involved Ron DeSantis' Wife Really Is
(ConservativeInsider.org) – This year, on election day, Florida Governor Ron DeSantis (R) cruised to reelection by winning 59.4% of the votes. This victory was not too surprising as he rose to fame in 2020 by fiercely protecting his constituents' freedoms as other governors put their states into lockdowns and took children out of in-person school for months. Now, the public is learning just how influential his wife, Casey DeSantis, truly is.
Casey DeSantis is a three-time national champion equestrian and an Emmy Award-winning journalist. She is also the mother to three young children as well as a breast cancer survivor. However, Florida's first lady is also the governor's number-one fan and one of his most trusted advisors.
Also, people love Casey DeSantis in FL! She's very smart and extremely likable. The room went nuts last night when the governor thanked her. They make a great team. https://t.co/oBqLKGO7gO

— Lisa Boothe 🇺🇸 (@LisaMarieBoothe) November 9, 2022
A source recently told The Daily Wire that when Ron DeSantis was a US Representative, he would often choose to hang out with his wife instead of other coworkers. He also emphasized how she "has a very strong influence" over the GOP leader, noting her as his "closest advisor" and "probably the only person he trusts." She is not shy on social media about sharing her support for her husband, either.
I love you, Ron.

On behalf of millions of people, never stop fighting for freedom. pic.twitter.com/5wcopo041U

— Casey DeSantis (@CaseyDeSantis) November 4, 2022
As speculation continues about whether or not DeSantis will run for the Republican nomination in 2024, Casey DeSantis continues to encourage her husband in any way she can.
Congratulations Governor on a historic win for the ages, we are so proud of you! pic.twitter.com/UkY0v14ZN6

— Casey DeSantis (@CaseyDeSantis) November 9, 2022
In the political realm, the first lady of Florida helped the state secure $100 million for cancer research and helped develop charities across the state to assist single parents, foster children, and those struggling with substance abuse disorders. Now, Americans must wait to see if she might continue her work as first lady of the United States one day.
Copyright 2022, ConservativeInsider.org