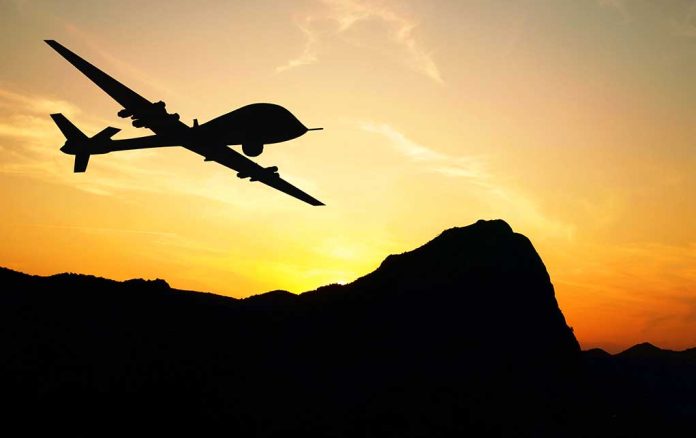 WATCH: Russian Drone SHOT DOWN – Ukraine Takes It Down
(ConservativeInsider.org) – While the US grapples with inflation and ramps up for the November midterms, other countries in the world continue to fight their own battles — some quite literally. As Russia continues its barrage on Ukraine, the defending forces still fiercely push back. A new video shows one such victory by the soldiers, where they allegedly shot down a hostile surveillance drone.
According to Ukraine Weapons Tracker, the Ukrainian 93rd Mechanized Brigade shot down a Russian unmanned aerial vehicle (UAV) with an FIM-92 Stinger MANPADS. The video shows soldiers cheering their victory before picking apart the drone's remains.
#Ukraine: A Russian Orlan-10 reconnaissance UAV was shot down today by the Ukrainian 93rd Mechanized Brigade in the vicinity of Izium, #Kharkiv Oblast – reportedly from a distance of 3 km using a FIM-92 Stinger MANPADS. pic.twitter.com/MpXFqTdBn6

— 🇺🇦 Ukraine Weapons Tracker (@UAWeapons) July 28, 2022
The analysts from Ukraine Weapons Tracker believe the now-destroyed drone was an Orlan-10 reconnaissance UAV, likely trying to retrieve footage of Ukraine troop locations. According to AirforceTechnology.com, the Russian company Special Technology Center LLC manufactures this type in St. Petersburg. Russian soldiers launch the medium-range UAV with a collapsible catapult, and it can fly over three miles high.
Reports from news outlet 1945 have detailed Russia struggling to keep these drones in working condition, sometimes using duct tape, water bottle caps, and other random objects to jury-rig the UAVs, likely because of the sanctions placed on the aggressive country limiting their supply of all sorts of items from abroad.
Copyright 2022, ConservativeInsider.org