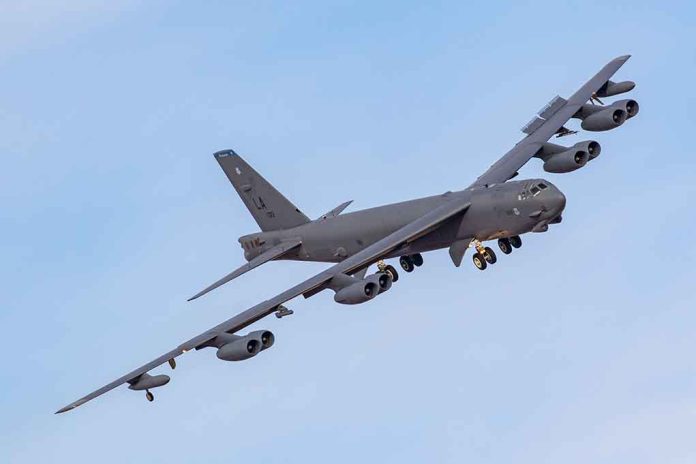 (ConservativeInsider.org) – It seems quite a few nations have been sending planes recently to patrol international waters or to test potential nuclear missiles. One of the latest events to increase tension happened when a few planes came into close quarters over the Baltic Sea, although the stories Russia and the United States are telling are not the same. Here's what both sides are saying.
On Monday, March 20, the Russian Ministry of Defense said that it used an Su-35 fighter to intercept a US Air Force B-52 bomber that was flying over the Baltic Sea. An Open Source Intelligence Monitor shared a video of the alleged encounter on Twitter:
A U.S. Air Force B-52H Strategic Bomber was Intercepted by a Russian Su-35 Fighter Aircraft over the Baltic Sea today; according to the Russian MoD the Bomber was approaching Russian Airspace when it were Intercepted and then Escorted until it entered Estonian Airspace. pic.twitter.com/45XW6SjOZx

— OSINTdefender (@sentdefender) March 20, 2023
According to the Polish Ministry of Defense, the American plane flew alongside Polish F-16s for a bit, but the Russian jet did not come into the nearby airspace until after they were gone.
When a reporter asked Pentagon Press Secretary Brigadier General Pat Ryder about this encounter on Tuesday, March 21, he said that the Russian use of the term "intercepted" is "bad" or "inaccurate information." Ryder then echoed a statement made by the US Air Force in Europe, citing that two B-52s were on a long-planned mission in Estonian airspace, where they stayed the entire time. He emphasized the bombers were about "50 nautical miles from Russian airspace, and at no point did the B-52s make contact with Russian aircraft."
This event occurred less than a week after Russian jets intercepted a US surveillance drone in the Black Sea, eventually sending it crashing into the waters below. Additionally, Russian President Vladimir Putin met with Chinese President Xi Jinping in Moscow this week, where the two worked on how to strengthen their relationship. According to the Wall Street Journal, Xinjiang said the "political mutual trust is deepening" between the leaders as "common interests are multiplying."
Copyright 2023, ConservativeInsider.org