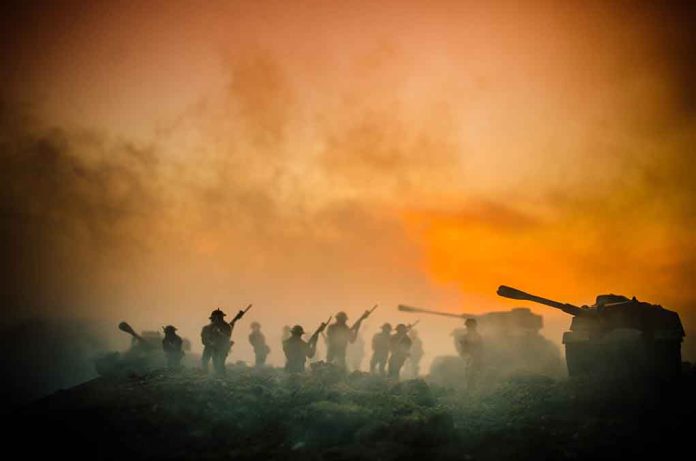 (ConservativeInsider.org) – The Royal United Services Institute (RUSI), a London-based think-tank, has released a report showing that Ukraine will face major tactical and strategic challenges during its planned counter-offensive against Russian forces, due to the Russian military having learned from its past mistakes.
The two authors of the report, Nick Reynolds and Jack Watling, have said that Russia has identified many of its shortcomings and has improved its battlefield strategy since February 2022 to become more reactive and co-ordinated.
These improvements have taken place in all branches of the Russian military, including tank and artillery brigades, engineering units and electronic warfare systems, as well as air defenses and aviation units.
The authors of the report also said that infantry brigades have adapted since the early days of the war in Ukraine, when large numbers of casualties were reported. However, they also noted that Russia had failed in one of its key objectives, which was to establish air superiority.
This was due to large numbers of its aircraft and missiles having been shot down by sophisticated advanced weaponry supplied by Western countries, such as US-supplied Patriot anti-missile systems and other surface-to-air missiles such as NASAM.
However, at the moment Russia does still have approximately twelve times as many aircraft as Ukraine, and so air superiority is still an achievable goal if ways can be found to neutralize the threat of advanced Western technology.
The success of the planned counter-offensive by Ukraine is dependent on a number of factors, not the least of which is the necessity for Ukraine to develop combat power at least an order of magnitude greater than it currently possesses.
The authors noted that while the Ukrainian forces were well motivated and have been extremely creative with the tools at their disposal, success would require sustained support from Western countries.
The supply of F16 fighter jets and the training of Ukrainian pilots by the West is likely to be seen by Russia as a major escalation in the conflict.
Copyright 2023, ConservativeInsider.org