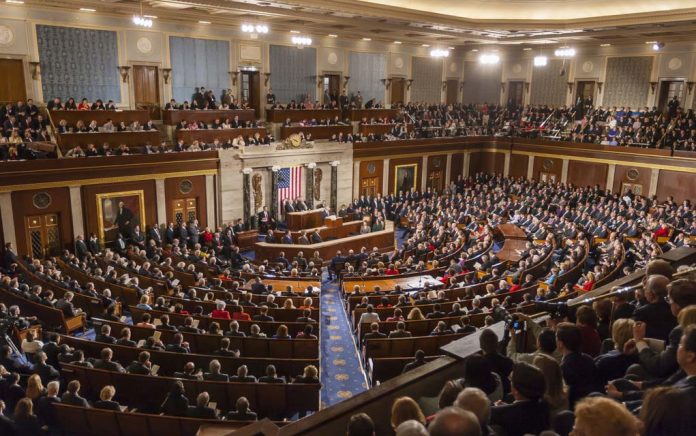 (ConservativeInsider.org) – Mike Huckabee was the governor of Arkansas for over a decade. His daughter, Sarah Huckabee Sanders, has now risen to that same position and is the first woman to hold the coveted office. At the age of 40, she is also the youngest governor in the nation. Now, she is continuing to make a name for herself within the GOP as she delivered the party's response to President Joe Biden's State of the Union (SOTU) address.
Huckabee Sanders Calls for New Leadership
On Tuesday, February 7, Sanders spoke with the nation during her rebuttal to Biden's SOTU speech about the current state of the US. She declared the sitting president's administration and agenda had been "completely hijacked by the radical Left" and urged listeners to do something about it. She said America's choice in upcoming elections "is between normal or crazy." She used this to launch the call for a "new generation of Republican leadership."
.@SarahHuckabee: "The dividing line in America is no longer between Right or Left, the choice is between normal or crazy."

"It's time for a new generation of Republican leadership." pic.twitter.com/x9eZrmnLR1

— NEWSMAX (@NEWSMAX) February 8, 2023
Sanders served President Donald Trump as his White House Press Secretary for two years, and many still see her as an ally to the 76-year-old Republican presidential candidate. However, she has not endorsed him in his current attempt to retake his former position. So, with her call for the next generation of GOP leaders, she could be asking others to lead the party during this time.
All of this comes as President Joe Biden is the oldest president in US history at the age of 80. If Biden wins another term and serves the full four years, he would leave the office at the age of 86.
Rising Stars in the GOP
As Governor Sanders encourages her young peers to continue pursuing service to their nation, many are thinking about throwing their names in the hat for the 2024 presidential nomination to give the party a more youthful option. Former South Carolina Governor Nikki Haley is one of them, and at the age of 51, she is a full 25 years younger than Trump. Haley delivered the GOP's SOTU response in 2016 as the party saw her as a rising star even then.
Other potential Republican lawmakers to answer Sanders' call could be Governor Ron DeSantis of Florida, Senator Tim Scott (R-SC), who delivered the SOTU rebuttal in 2021, or even House Representative Juan Ciscomani (R-AZ), who provided the Republican response in Spanish.
So, as Americans watch various people put their names in the mix for a 2024 White House run, voters will likely see a younger generation of political hopefuls desiring to lead the GOP with vigor, passion, and a sense of purpose.
Copyright 2023, ConservativeInsider.org