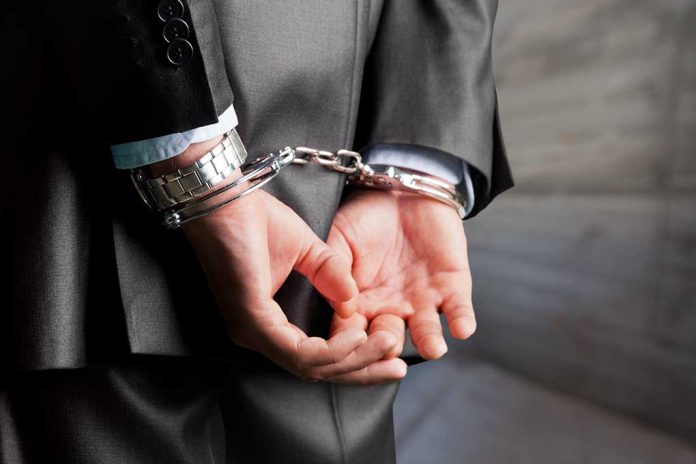 (ConservativeInsider.org) – A Rhode Island Senator, Joshua Miller (D-RI), has been arrested after allegedly having been caught on surveillance footage vandalizing a vehicle that had a bumper sticker on it that read "Biden Sucks". The Senator was approached by the son of the unidentified man who owns the vehicle and asked whether he had just keyed the paintwork. Senator Miller denied the allegation, but when police reviewed the footage from the Garden City Centre complex in the town of Cranston, Rhode Island, they found that there was enough evidence to arrest the Senator.
When police interviewed Senator Miller, he allegedly told them that he did it because the victim had dared him to, a counter-allegation that was denied by the victim. Miller said that he thought the victim was "one of those gun nuts" who recognised him and who had taken umbrage at the Senator's record of supporting anti-gun legislation, but in a statement obtained by police, neither the victim nor his family had recognised Senator Miller at the time.
In a press release that was subsequently extensively viewed on social media, the Cranston Police Department disputed Senator Miller's version of events, saying that at no time had Miller reported any threats concerning his stance on anti-gun legislation. A spokesman for the Cranston Police Department said that "nobody was above the law, not even a state senator", and that a review of the evidence had shown that the police officers involved had acted with fairness, impartiality, and integrity.
Democrats in Rhode Island have long pushed for a ban on "assault weapons, and Senator Miller, who leads the Senate Health and Human Services Committee, as well as being the Senate Democrat policy chair, sponsored a Senate Bill in March of this year, which sought to ban the sale, transfer, and ownership of assault weapons.
Senator Miller has been charged with a misdemeanour based on evidence of malicious injury to property and vandalism. He was released on $1000 recognizance and is due back in court in July for re-arraignment.
Copyright 2023, ConservativeInsider.org