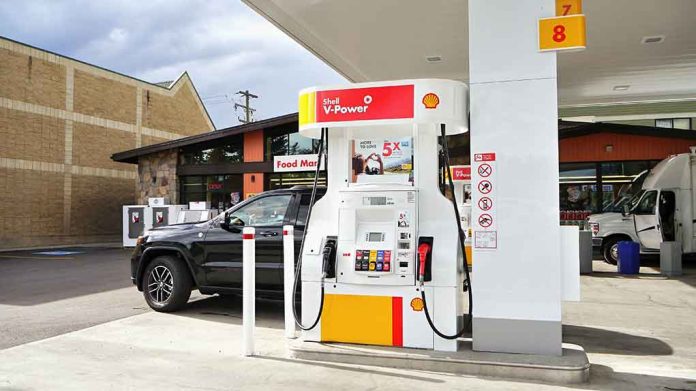 (ConservativeInsider.org) – While most gas companies took a hit in 2020 when much of the world greatly decreased its driving, the same businesses have been making up for lost time over the past twelve months as people started to travel again in spite of sky-high gas prices. As companies finish tallying up their profits for last year, their numbers are shocking, to say the least. Exxon Mobil announced it made $56 billion last year, breaking its previous record. Similarly, Shell announced a profit of over $40 billion, which made many call for a larger windfall tax on the London-based company.
Shell Breaks Company Records With 2022 Profit
On Thursday, February 2, Shell, which is Europe's biggest energy business, announced $42.3 billion in profits, which is over twice what it was the previous year. In just the fourth quarter of 2022, Shell made an adjusted $9.8 billion, up over 50% from the prior year. A lot of this cash came from the company's liquefied natural gas sales, which were in higher demand after Russia limited its outsourcing of the fuel as part of its ongoing war in Ukraine.
BREAKING: Shell has announced annual profits of £32.2bn ($39.9) doubling from a year earlier and far exceeding the previous record of £25bn ($31bn) in 2008

Read more here 👉 https://t.co/OKeC0uk1T2#KayBurley

📺 Sky 501, Virgin 602, Freeview 233 and YouTube pic.twitter.com/cgjwJBH6La

— Sky News (@SkyNews) February 2, 2023
Lawmakers Demand Greater Windfall Taxes
Even though Britain raised its tax rates on gas and oil companies in 2022, Shell was still able to post these record-breaking profits. With these increases, many lawmakers and environmentalists have asked the government to increase the windfall tax to collect at least a portion of the company's ginormous profits. Paul Nowak, the general secretary of the Trades Union Congress, called Shell's earnings "obscene" and declared them "an insult to working families," according to The Guardian.
In 2022, Shell only paid $134 million in windfall taxes to the British government and $520 million to the EU for the same reason, which is still just a meager portion of the company's $42 billion profit.
Where Is the Money Going?
Many British lawmakers also pointed out that Shell profited enormously while many British citizens struggle to make ends meet and pay their heating bills this winter. However, Shell is reminding critics it is using its earnings to boost its financial status and invest in the future of the company and the world. With this, some of the profit is being spent on renewable energy development, but even that investment is being questioned for its efficiency and amount.
Shell is also buying back around $4 billion worth of its own shares to increase their value. It also shared some of the profit with shareholders by increasing its 4th quarter dividend by 15%, according to the New York Times.
Copyright 2023, ConservativeInsider.org