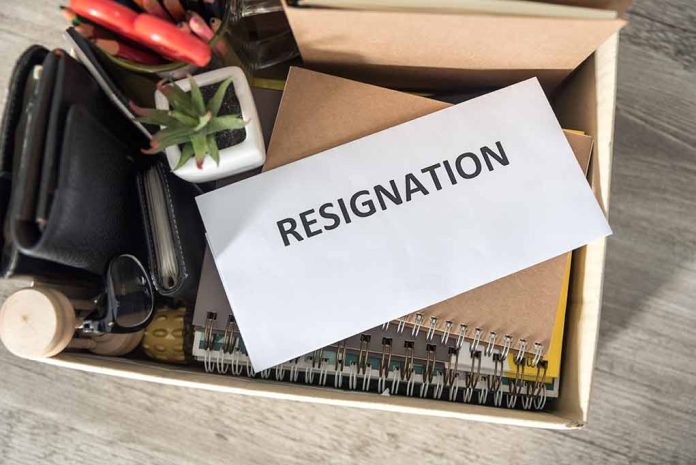 (ConservativeInsider.org) – A controversial prosecutor embroiled in scandal and supported by billionaire George Soros has resigned as the attorney general of Missouri sought to have her removed from office.
St. Louis's top prosecutor, Circuit Attorney Kimberly Gardner, resigned in writing just days after declaring, "I ain't leaving."
Her office has been accused of disorganization and mishandling cases for years, and Missourians of both political parties have called for her resignation. Her departure will take place on June 1.
Attorney General Andrew Bailey of Missouri filed a petition quo warranto earlier this year to have Gardner removed from office for failing to execute the law.
According to Bailey, Gardner has dropped roughly 12,000 felony charges, with more than 9,000 cases dismissed right before trial. Judges dismissed over 2,000 of her cases due to a lack of evidence and delayed proceedings.
In an article published in the Wall Street Journal in July 2022, Soros justified his funding of prosecutors. He said his donations help reform-minded candidates get their voices heard. Results show that people enjoy what they hear, Soros stated.
Soros spent almost $40 million over the previous decade to elect 75 progressive prosecutors like Gardner in half of America's largest jurisdictions. The billionaire, who is renowned for sponsoring campaigns for lax prosecutors, donated to Gardner's 2016 and 2020 campaigns.
A string of incompetence led to Gardner losing the trust of the people.
A teenage volleyball player lost both legs in February after being hit by a car driven by an out-of-bond criminal. Despite repeatedly breaking the terms of his bond, the individual was not arrested.
In April, a judge in a double homicide case released the suspect on bail because Gardner's office had suppressed evidence.
When a video of a man killing a homeless man on a St. Louis street went viral in March, many people blamed Gardner for the violence in her city.
Other Soros-backed attorneys have been controversial.
Former San Francisco District Attorney Chesa Boudin was defeated in a recall election in June 2022 due to the city's rising crime rate. Republicans in the House of Representatives are looking into Manhattan District Attorney Alvin Bragg over allegations that he is unfairly targeting former president Donald Trump for political reasons while disregarding rising crime rates.
Soros said people liked what they were hearing. However, it doesn't look like people like what they are seeing.
Copyright 2023, ConservativeInsider.org