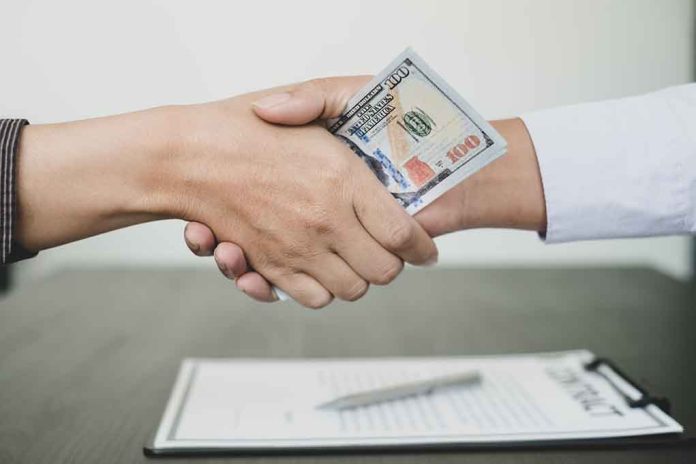 (ConservativeInsider.org) – House Representative Cori Bush (D-MO) recently announced her marriage to her former security guard Cortney Merritts. Shortly after, news outlets researched the legitimacy of her security team, finding that some members did not have the proper licenses to practice security, including her new spouse, while providing the service to Bush's campaign. Now, further investigations reveal the lawmaker has paid six figures to someone who claims to be a spiritual guru while holding anti-Semitic views.
Recent Federal Election Commission filings show Cori Bush for Congress paid Nathaniel Davis over $130,000 for "security services" since September 2020. The most recent paycheck was disbursed on December 29, 2022, for $2,500.
Since 2020, Defund the Police activist Cori Bush has paid $137,000 in "security services" to an antisemite who "claims he can summon tornadoes at will, cause earthquakes with his hate, and conduct blood rituals to bring ruin upon his enemies." https://t.co/n1WicLOtCm

— RNC Research (@RNCResearch) March 7, 2023
In a series of videos collected by the Washington Free Beacon, Davis, who also goes by the name Aha Sen Piankhy, claims he can create tornadoes, summon lightning, and make it rain. He also claims that he is "not peaceful at all." Davis also says he has spent "trillions of years coming to this planet." In Facebook posts, he claims one of the Rothschild brothers, a famous Jewish family, has secretly installed every single president in the West.
This all comes as the Foundation for Accountability and Civic Trust (FACT) filed a complaint with the FEC on Thursday, March 2, to investigate whether Bush used "campaign funds for personal use," according to the New York Post. The group wonders if the $60,000 the Missouri lawmaker's campaign paid to her now-husband was an inflated number due to her close relationship with him.
While it will take time for the FEC to investigate these matters, it is clear Bush's security detail is a well-paid and eclectic group of people. If those close to her hold such controversial and strange ideas, though, it may push some people to wonder what other radical ideas the congresswoman herself holds as well.
Copyright 2023, ConservativeInsider.org