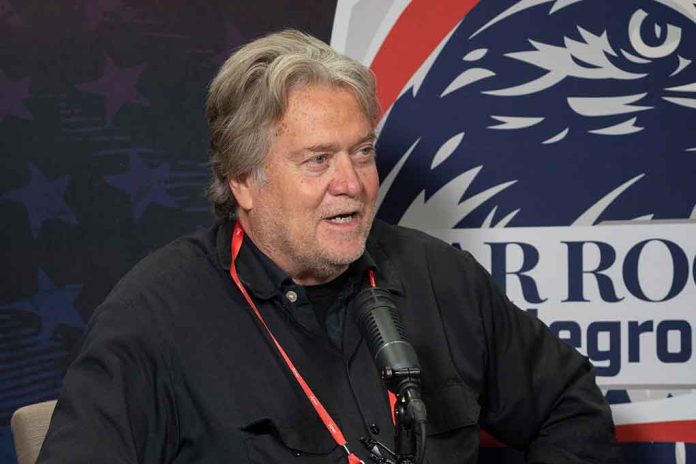 (ConservativeInsider.org) – Americans have known about the laptop Hunter Biden left at a Delaware Repair shop with copious amounts of incriminating information, photos, and emails about his exploits since the fall of 2020. Since then, the president's son has tried to brush off all the stories that have come out of that computer. However, he is now working with legal representation to stop the spread of this personal information and perhaps get something to compensate for the damage done to his reputation. But, Steve Bannon, a former advisor to President Donald Trump, warned that his attempts to dismiss the obvious content of the laptop will only make things messier for the president's family.
On Thursday, February 9, Hunter Biden's attorney, Abbe Lowell, sent notices to 15 people, including Bannon, telling them to keep documents and information relating to the president's son. However, on Sunday, February 12, Bannon shot back on his GETTR account, posting that the "upcoming hearings will put forth to the American people and the World what lowlife scum he is and you are."
Hunter Biden has been the focus of the president's critics, including Republicans who are investigating the contents of his son's laptop. https://t.co/QYeZcpPOQQ

— Newsweek (@Newsweek) February 12, 2023
Bannon also used the post to say that Hunter Biden "sold out" the US for money. The same day, the former Trump advisor told Newsweek that the letter from Lowell was simply "a diversionary tactic" attempting to push witnesses away from sharing what they know about Hunter Biden, his sketchy business dealings, and other disgraceful aspects of the man's life. He also believes the president's family is "financially compromised" by the Chinese Communist Party.
This all is happening as the US House, now led by the GOP, held a hearing on Wednesday, February 8, about the laptop and Twitter executives' decision to pause users' sharing of the story for a bit after the New York Post first published it. As more investigations and hearings continue to uncover the truth about Hunter Biden, his father, and their business dealings, Americans will only gain a more complete picture of just who has influence in the White House.
Copyright 2023, ConservativeInsider.org