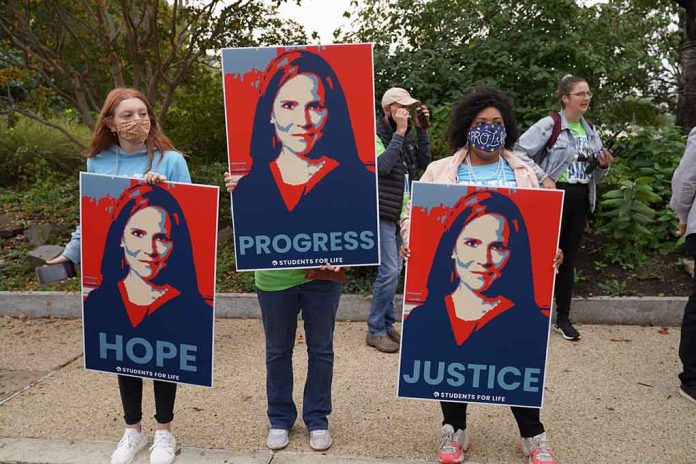 Amy Barrett Asked To Stand Down in Important Case
(ConservativeInsider.org) – In 2012, Lorie Smith started a small graphic design business called 303 Creative in Colorado. She used her talent to create websites and logos for causes she believed in. However, when her state would not allow her to refuse a same-sex couple asking for her services, she took her case to court. Now, Smith's lawsuit is at the Supreme Court (SCOTUS), and it seems some people are asking Justice Amy Coney Barrett to recuse herself from hearing it.
On Monday, November 21, The Guardian published an article saying that people previously affiliated with the faith-based group People of Praise are asking Barrett to step away from the December 5 argument of 303 Creative LLC v. Elenis. They allege that because the SCOTUS justice was on the board of a school that banned the children of same-sex parents from attending the school, she cannot fairly judge the case involving LGBTQ rights.
Amy Coney Barrett urged to step away from gay rights case because of faith affiliation https://t.co/2EElfLqyld

— Guardian US (@GuardianUS) November 21, 2022
The school Barret partnered with is associated with People of Praise, a charismatic Christian group that started in South Bend, Indiana, and has since spread across the nation. The people asking Barrett to step back from the case call themselves "survivors" of the group and allege the sitting justice is a "lifelong" member.
However, justices are not asked to rule on their own beliefs but rather to interpret the law as written and through the lens of the Constitution. As every single person has personal values, should a justice recuse themselves whenever a case appears that goes against or for their ideals?
Copyright 2022, ConservativeInsider.org