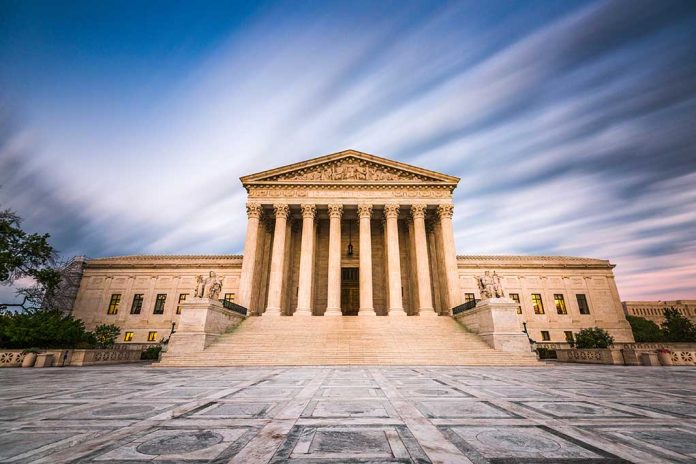 Supreme Court Tells Widow It Won't Take Her Case
(ConservativeInsider.org) – For decades, the water at Camp Lejeune in North Carolina was so contaminated with chemicals that the US government now acknowledges it was detrimental to the health of many who lived there. Military service members and their families stationed at the base consumed the toxic liquid for a time, sometimes causing issues down the road. One widow who alleges her husband died from cancer contracted because of his water consumption there asked the Supreme Court (SCOTUS) to step in. But it just denied her case.
What Was in the Water at Camp Lejeune?
In 1985, the military shut down two water wells at Camp Lejeune and the Marine Corps Air Station New River in North Carolina, which contained vinyl chloride, benzene, Perchloroethylene, Trichloroethylene, and other compounds. These chemicals are known to cause health issues, including various cancers, infertility, neurobehavioral effects, and fatty liver disease.
Camp Lejeune Justice Act of 2021 and the Feres Doctrine
In 1950, SCOTUS ruled in Feres v. United States that military personnel could not sue the US government for injuries "incident to military service" that occurred while on active duty. So, when Carol Clendening, the widow of Gary Clendening, sued the government for her husband's death from leukemia, lower courts blocked her suit based on the Feres doctrine.
However, lawmakers recently passed the Honoring Our Pact Act that includes the Camp Lejeune Justice Act, which allows individuals to sue the government for any certain damages caused by exposure to contaminated water while stationed at the North Carolina military base between August 1, 1953, and December 31, 1987. President Joe Biden signed the bill into law on August 10, 2022.
Clendening Rises to the Supreme Court
After the denial by the lower courts, Clendening appealed to the nation's highest court. But, on Monday, November 7, eight of the nine justices declined to hear the case. Justice Clarence Thomas dissented from the rest of the group, writing he wished the court would "accept the invitation" to potentially overturn the Feres doctrine.
The longest-serving justice highlighted the discrepancies Feres has created, such as trying to decide just what constitutes an "incident of service" under the doctrine. Thomas noted that in past cases, exposure to carbon monoxide at Fort Benning and the sharing of personal materials on a base were not considered "incidents of service" by the law, but drinking contaminated water and rape by a fellow West Point cadet have been seen as such. These strange and differing precedents only cause confusion when it comes to what a military servicemember is allowed to sue their government for when it comes to injuries sustained during active duty.
Furthering his dissent, Thomas acknowledges the court "caused this chaos" by passing Feres to begin with, and knowing this, he said it was the court's job to "fix it."
Copyright 2022, ConservativeInsider.org