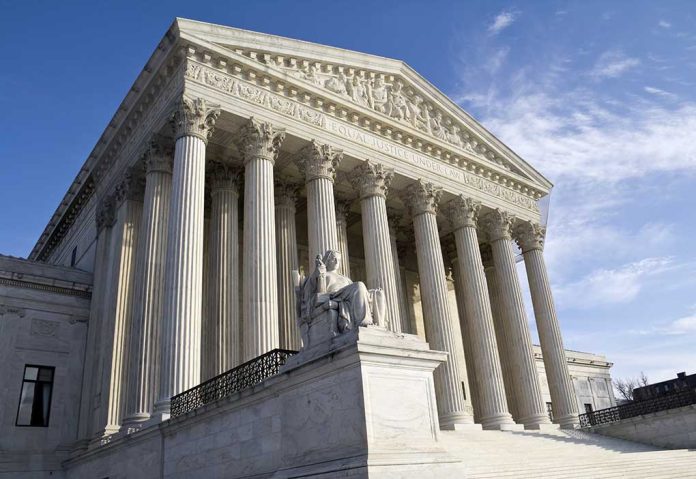 (ConservativeInsider.org) – Sometimes, a few mere words can make all the difference when it comes to life and death decisions. In the case of Rodney Young, a potentially miswritten Georgia law may allow the state to carry out a death sentence against him despite a school system classifying him as intellectually disabled. Now, the Supreme Court is deciding whether or not to hear the case and potentially spare Young's life.
In 2012, a jury convicted Rodney Young of killing his estranged girlfriend's son. The jury said Young couldn't prove he was intellectually disabled "beyond a reasonable doubt," allowing the jury to sentence him to death. However, the 2002 Supreme Court decision Atkins v. Virginia ruled that states cannot sentence people with intellectual disability to death. This is where Young's case gets tricky.
Georgia is one of the few states that has such a high standard for proving intellectual disability. Most other states only ask defendants to prove the disability is more likely than not, rather than Georgia's "beyond a reasonable doubt." One of the men who drafted the Georgia law, Jack Martin, claims he did not mean to write that clause in.
The ACLU highlighted details of the case on Twitter:
Our client Rodney Young is intellectually disabled. Georgia still insists on executing him, under a uniquely harsh law that makes it virtually impossible to prove intellectual disability.

It's cruel and unconstitutional — the Supreme Court must intervene. https://t.co/4Rj8CN54nU

— ACLU (@ACLU) January 3, 2022
Lawyers have asked the Supreme Court to hear Young's case to see if the previous SCOTUS ruling prohibits Georgia's strict law. Robert Dunham, the Executive Director of the Death Penalty Information Center, shared the petition on Twitter:
#RodneyYoung—diagnosed as "educable mentally retarded" as a child—has filed a petition for writ of certiorari asking #SCOTUS to review #Georgia's denial of his claim that he is ineligible for the #deathpenalty because of intellectual disability. https://t.co/eNYxvkwA0m @DPInfoCtr pic.twitter.com/nkBIEdyos1

— Robert Dunham (@RDunhamDPIC) December 2, 2021
Now, the nation's highest court must decide whether or not to step into this matter.
What do you think? Do you believe the SCOTUS should hear the case?
Copyright 2022, ConservativeInsider.org