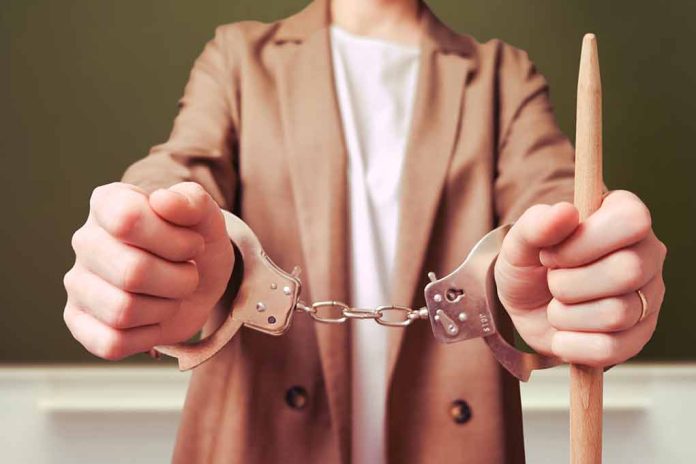 (ConservativeInsider.org) – A 34-year-old Wisconsin woman who worked as a teacher at a private Lutheran school was arrested this week on charges of sexually assaulting one of her 8th grade students. Local police also allege she purchased a gun for the student and gave it to him on his 14th birthday.
Tyesha Bolden, who is 20 years older than the 14-year-old student she allegedly molested, was arrested on charges of second-degree sexual assault on a child as well as providing a dangerous weapon to a minor, both felony charges. She was released on $2,500 bond this week.
The victim's parents went through his phone and discovered over 2,200 messages exchanged between him and his teacher, including sexually explicit text messages and nude photos of the 34-year-old. The victim's mother called police on July 25th and said the 14-year-old had stolen a relative's car and was possibly staying at Bolden's residence. On July 28th, the 14-year-old was pulled over while driving the stolen vehicle, at which point officers found the illegally possessed gun. The gun and ammunition were traced back to Range USA, where receipts and surveillance video indicated it was purchased by Bolden in June.
When the victim was interviewed by police, he admitted that Bolden drove them to a wooded area, where they engaged in sex. After that, he said he asked Bolden to purchase him a gun "for protection." She obtained a Gen 5 Glock 19 gun for him and gave it to him on his 14th birthday, along with ammunition and "some books." The victim said he later asked her for money, so she gave him $1,000. When he asked her to buy him a second gun in late July, she declined, and he said the relationship ended.
Bolden was immediately fired by the school district when they learned of her inappropriate relationship with a student, and they also notified police. She faces up to 40 years in prison if convicted.
Copyright 2023, ConservativeInsider.org