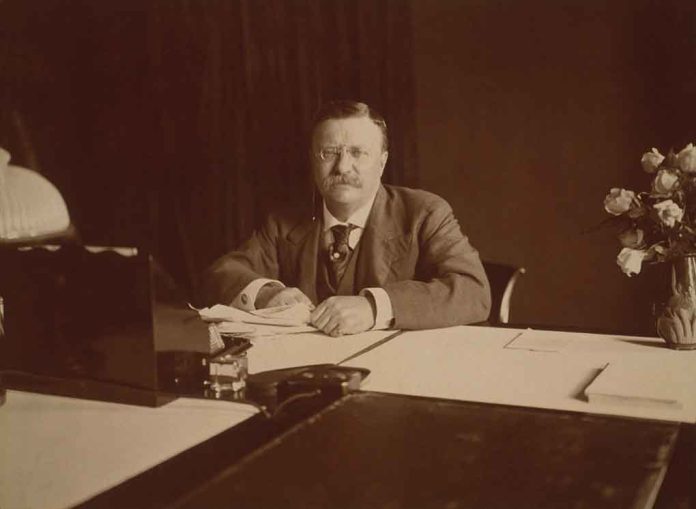 (ConservativeInsider.org) – Many Americans love President Teddy Roosevelt, who is known for his masculine demeanor, traditional values, and for being an incredible shot — whether on the battlefield or on a hunt. His rise to fame began in the summer of 1898 when he led the Rough Riders, a volunteer cavalry regiment, into the Battle of San Juan Hill during the Spanish-American War. A revolver given to him just before that historic day recently went up for auction and fetched nearly a million dollars.
On December 9, Rock Island Auction sold Roosevelt's Smith & Wesson No. 3 revolver, with its factory letter and holster, for $910,625. The .38 Long Colt has a blue finish with a well-preserved walnut grip. Historians believe it is the gun the president had by his bedside every night during his time in the White House.
After his death in 1919, the gun likely went to James Amos, his loyal bodyguard and friend. It was sold several times before finally ending up with the NRA, which displayed the historic revolver in its museum before it made rounds among private collectors and museums.
Auctioned revolver nets nearly $1M. Its previous owner? None other than the Bull Moose, Theodore Roosevelthttps://t.co/37tw32b3q1

— Observation Post (@MilitaryTimesOP) December 21, 2022
While this firearm certainly cost a pretty penny, another pistol owned by Roosevelt sold for nearly $1.5 million in 2020. He received that gun, a Colt Single Action Revolver, as a gift for his 54th birthday — just days before someone shot him while giving a speech in Milwaukee. Incredibly, the 50-page speech he had in his jacket slowed the bullet down enough to keep it from killing him. In his own words, "it takes more than that to kill a bull moose." With stories like these, it's no surprise the former president's guns are such a hot commodity.
Copyright 2022, ConservativeInsider.org