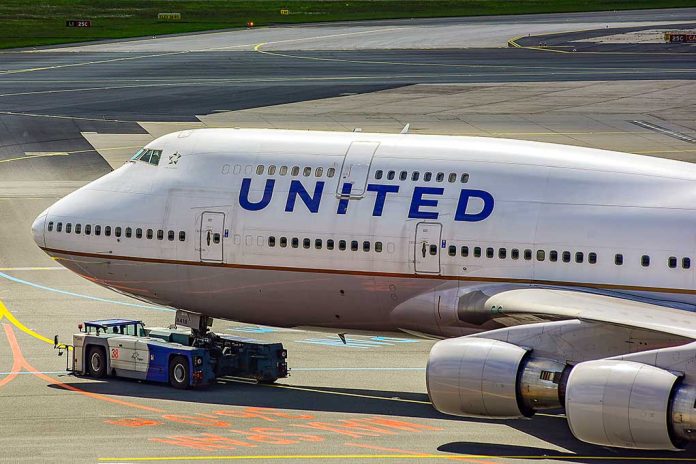 Woman Makes Terrorist Threat on Plane
(ConservativeInsider.org) – Flight attendants have quite a job, ensuring passenger safety while keeping them full of snacks and drinks, all while working in a very small space with plenty of other people. In recent years, the number of unruly customers causing incidents in the sky has increased, and one particularly disturbing event happened recently on a flight from California to Illinois.
On Sunday, November 13, a passenger on United Airlines flight 476 began yelling at a flight attendant while holding a small child. She threatened to kill the airline employee while repeatedly pushing her. Another flight attendant stepped in, asking the unruly passenger, referred to as "Sarah," to "step back."
Flight attendant assaulted on @united flight 476 that just landed in Chicago at @fly2ohare. pic.twitter.com/4ksmKl5PAC

— Peter Kondelis (@PeterKondelis) November 13, 2022
When the flight landed, police were waiting to arrest the woman. While officials did not report any serious injuries, three people were taken to the hospital for observation. United Airlines sent a statement to Business Insider sharing its thankfulness for the crew's professionalism and "putting the safety of our team and our customers first."
The Chicago Police Department and United Airlines are assisting the FBI in investigating the encounter.
A similar incident occurred in September when a man allegedly punched an American Airlines flight attendant while traveling from Cabo, Mexico, to Los Angeles, California. As of November 1, 2022, the Federal Aviation Administration has received 2,178 incident reports of unruly passengers in the past 365 days, which launched 767 different investigations.
Copyright 2022, ConservativeInsider.org