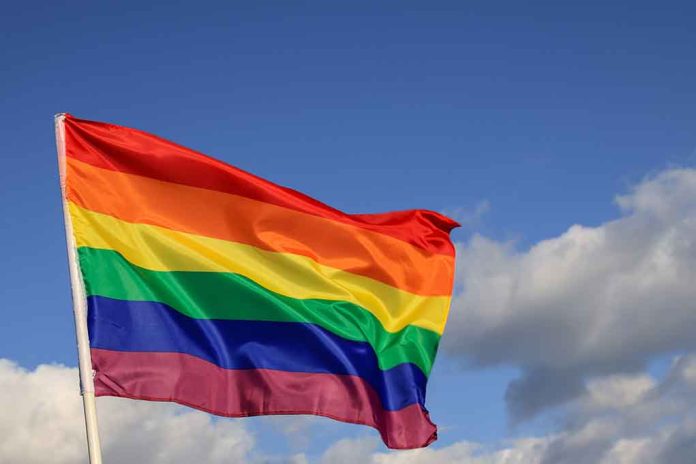 (ConservativeInsider.org) – The company "The North Face" is probably best known for their range of outdoor recreational products, such as boots, shoes, jackets, sleeping bags and backpacks to suit even the most masculine, ruff-tuff outdoors explorer who might wish to brave the unpredictable weather that can sometimes descend out of a bright, sunny, cloudless day.
So, it may come as something of a surprise to some people to learn that The North Face is joining the ever-increasing list of "woke" companies intent on pushing the LGBTQIA+ agenda by promoting rainbow-themed clothing aimed at children and adopting the face of transgender individuals and drag queens to highlight how wonderful they are at virtue-signalling.
The only problem is, of course, is that a large proportion of customers absolutely dispise the idea. Other companies who have gone down this route, such as Anheuser-Busch with their ill-fated attempt to appeal to woke sensibilities using the face of the transgender Dylan Mulvaney to promote Bud Light, have experienced severe, and in all likelihood irreversible losses. Some analysts have put the ensuing financial impact to Anheuser-Busch at anywhere up to $15 billion, and the company in unlikely to recover its lost market share of around 12 per cent anytime in the next 18 months.
Other companies are poised to follow suit as an anti-transgender backlash gathers momentum. Observers say that it is not that customers hate individual transgender individuals, but the aggressively radical approach of the transgender mafia is simply a turn-off to most people.
The North Face has released a transgender advertisement in the form of a video featuring Pattie Gonia, a most unprepossessing drag queen with a questionable moustache who encourages viewers to "come out" whether they want to or not. One conservative journalist said: "They are sending out a subliminal message not to buy their products if your values do not coincide with theirs. Because nothing screams 'rugged outdoors explorer' like a geezer in a rainbow-coloured dress and a wig."
Copyright 2023, ConservativeInsider.org