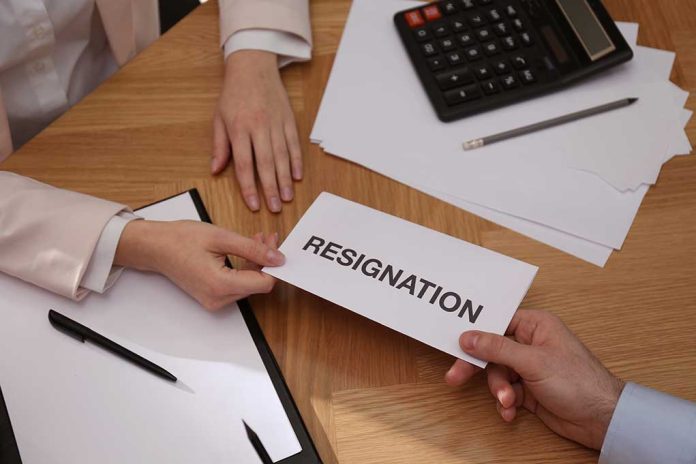 (ConservativeInsider.org) – On June 15, 2021, Lina Khan became the Chair of the Federal Trade Commission (FTC), a government agency committed to sheltering Americans from bad businesses and unfair competition in the marketplace. However, less than two months after Kahn took office, one of the two Republicans on the five-person commission announced his departure. According to POLITICO, Noah Phillips was leaving to spend more time with his family and because his coworkers were not willing to compromise and discuss the topics at hand. Now, the remaining Republican on the commission has resigned and lobbed intense allegations at Kahn on her way out.
Christine Wilson Published Op-Ed Announcing Departure From the FTC
In a bold move, FTC Commissioner Christine Wilson submitted an opinion piece to the Wall Street Journal on Tuesday, February 14, announcing her resignation. Wilson began by refusing to give "Kahn and her enablers…any further hint of legitimacy by remaining," citing the agency leader's "abuses of government power" as the main reason for her leaving.
From @WSJopinion: Although serving as an FTC commissioner has been the highest honor of my professional career, I must resign in the face of continuing lawlessness, writes Christine Wilson https://t.co/ztgE5jsELB

— The Wall Street Journal (@WSJ) February 15, 2023
Wilson wrote about how she tried to bring transparency and fairness to the upper echelons of the FTC but was consistently met with constraints, unnecessary redactions, and denial. The departing commissioner also highlighted that in 2020, the Federal Employee Viewpoint Survey showed that 87% of FTC employees believed that the agency's top officials set a high bar when it came to integrity and honesty. Now, that number stands at a meager 49%.
The last Republican on the commission also highlighted multiple instances where she believes Chair Kahn is not allowing due process to take place, whether in Meta's acquisition of virtual-reality company Within or the agency's attempt to ban most of the non-compete clauses in the US.
Remaining Commissioners Respond to the Announcement
Shortly after Wilson's piece went public, the FTC released a statement from the remaining three Democratic commissioners that wished her the best in the next step in her career. The short press release did acknowledge that the three officials left often disagreed with their counterpart but "respect her devotion to her beliefs and are grateful for her public service." The statement said nothing regarding the allegations of abuse of power.
Republicans Speak Up About Open FTC Slots
With two open slots on the Federal Trade Commission, many Republicans, including senators Ted Cruz (R-TX) and Rick Scott (R-FL), are calling for the vacancies to be filled quickly. Cruz emphasized that the blank spots leave the FTC "without a counterweight to Chairwoman Khan's activist agenda."
Copyright 2023, ConservativeInsider.org