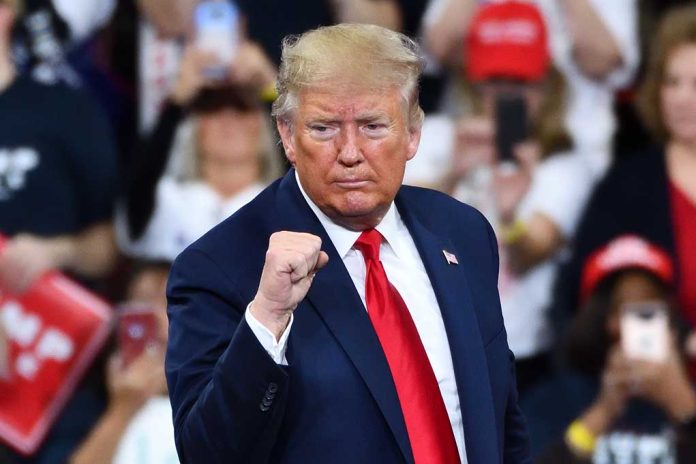 Trump CHEERS After Latest Polling Whirlwind
(ConservativeInsider.org) – While former President Donald Trump has yet to announce a 2024 White House bid, he is certainly staying deeply involved in politics. This primary season, he endorsed numerous candidates who reflect his America First priorities, and now his support is starting to pay off for some candidates — but not for others.
Trump Celebrates "Big Night" in Latest Round of Primaries
On Tuesday, June 7, many states, including California, New Mexico, and New Jersey, held their primary elections. When over 10 of his endorsed candidates won their races, Trump posted his celebratory remarks on Truth Social, his social media platform.
Former President Donald Trump thanked supporters for helping to produce a "successful" Tuesday of election results.

— Newsmax (@newsmax) June 8, 2022
Trump-supported Senator Chuck Grassley (R-IA) won his primary despite previous criticism of the former president. The 88-year-old lawmaker recently admitted he would be silly to not accept such an endorsement. In California, Representative Darrell Issa (R-CA) won his district's primary with Trump's backing, too.
Bigger Names Succeed With Support from Trump
Trump also supported South Dakota Governor Kristi Noem (R), who won her bid to have a second term with 76% of the vote, and House Minority Leader Kevin McCarthy (R-CA), who hopes to continue leading the GOP in the lower chamber of Congress.
This week, Pennsylvania was also able to finally announce the results of its May 17 primary election, which had an incredibly tight race between Dr. Mehmet Oz, who Trump endorsed five weeks before the primary, and David McCormick. After a recount, Oz pulled ahead by a mere 951 votes in the 1.3 million ballot election and McCormick conceded. Now, Oz heads to the general election in November to face off against Democratic Lieutenant Governor John Fetterman, who recently suffered a stroke and is being treated for a potentially lethal heart condition.
Montana Race Still an Incredibly Close Call
After the 2020 census, Montana earned a second seat in the US House. However, the race to fill it was incredibly close between Trump-endorsed Ryan Zinke, who served during the Trump administration as the Interior Secretary, and Senator Al Olszewski. The race is quite close at the time of this writing, with multiple counties not reporting in a timely manner.
Trump's Winning Endorsement Strategy
While many of Trump's candidates have won their elections, it is important to note candidates he purposefully avoided endorsing, too. The former president did not endorse anyone in New Jersey or New Mexico; in both states, he lost by double-digit margins to President Joe Biden. The 45th president also avoided throwing support behind either Representative David Valadao (R-CA), who voted to impeach him in 2021 or his opponent.
This latest primary showed that Trump's endorsement, while selective, is still powerful and provides a much-desired boost for many GOP candidates. Now, Americans can begin preparing for the November election by getting to know the candidates and choosing the one which will best represent their values in Congress.
Copyright 2022, ConservativeInsider.org