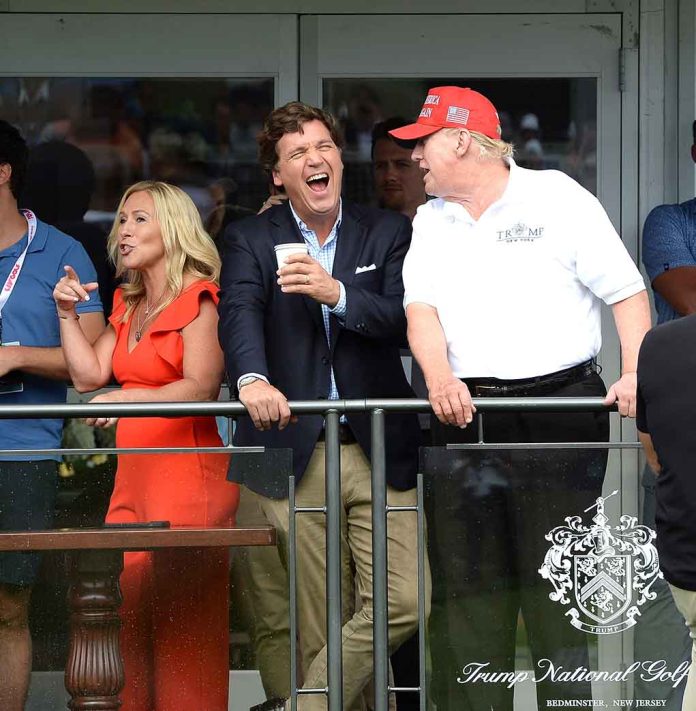 (ConservativeInsider.org) – After the shocking news of Tucker Carlson's departure from Fox News hit the internet and made its rounds across the major news outlets, former President Donald Trump went on to do an interview with Newsmax where he talked about the pundit's exit. Speaking with host Greg Kelly, Trump expressed his shock and surprise over the news about Carlson, stating that he is a good man, talented, and had high ratings, according to the Daily Wire.
The former president then stated that he was not certain if Carlson's leaving the network was a voluntary decision or if the extremely popular prime time host was fired, going on to say that it was possible he "wants free rein, maybe."
TRUMP COMMENTS ON TUCKER: '45' tells Greg Kelly his thoughts on Fox News and Tucker Carlson parting ways. "I just said, wow, that was something, that's a big one." pic.twitter.com/XIWMVaXfpB

— NEWSMAX (@NEWSMAX) April 25, 2023
Trump continued to gush over Carlson during the interview, calling Tucker "terrific," and said he's treated him well in his coverage over the course of the last year, Business Insider said.
Many folks have speculated that there may be a connection between Carlson's exit from Fox and the recent $787.5 million settlement with Dominion Voting Systems, which was an outcome in the case the former president was surprised by, stating he thought it was one that could have been easily won, Forbes reported.
Fox News put out an announcement concerning the split with Carlson, thanking him for his time and service at the network, noting that a rotation of on-air hosts would be filling in his position until someone full time was appointed.
On last Friday's edition of the program, Carlson ended the show by saying he would be back on Monday. As of this writing, the popular pundit has yet to address the situation.
A few sources spoke with The Los Angeles Times and stated that the reason Tucker Carlson was let go from the company was because of a discrimination lawsuit that was originally filed by Abby Grossberg, a former producer for Fox.
Copyright 2023, ConservativeInsider.org