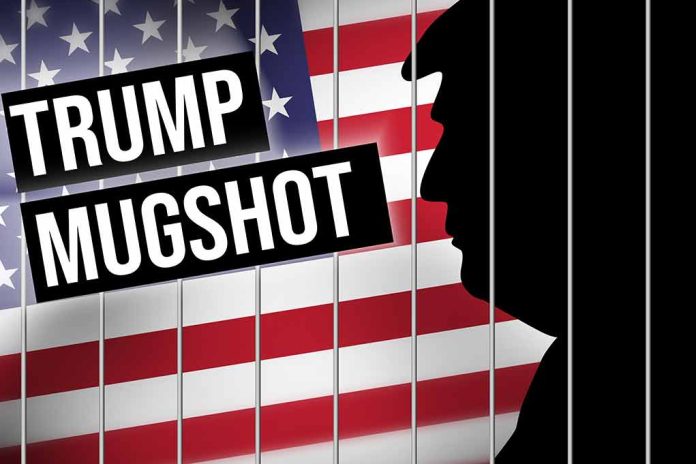 (ConservativeInsider.org) – After Donald Trump surrendered himself to the Fulton County jail in Georgia, his mugshot was made public and posted online across numerous media outlets and social media apps. In the mugshot, Trump is seen with a dour face and looks incredibly agitated at the circumstances leading to his Georgia criminal case.
The criminal case in Georgia marks the 4th indictment against the former president and yet another legal challenge that will unfold during his presidential election. Despite the nature of the charges against the former president, many online posts support Donald Trump and compliment his mugshot photo. Trump currently faces charges in multiple locations, including New York, Florida, and Washington D.C. Trump's charges are also federal and state, and the former president presently faces 91 charges. Despite his growing legal battle, Trump remains adamant that he is innocent of the charges against him and will be found not guilty once his trial for each indictment concludes.
Trump's mugshot isn't the only one being shared across media outlets, as 19 others surrendered to Fulton County authorities and were booked into the jail before their release. Among those charged alongside Trump are his former attorneys, Sidney Powell and Rudy Giuliani. Each of the others charged alongside Trump is accused of attempting to aid Donald Trump in overturning the 2020 presidential election and will likely be subject to trials unless they attain a plea deal.
Trump's team confirmed that Trump will not be taking any plea deals and will go to trial for each of the indictments against him. Although none of the others charged alongside the former president have discussed cooperating with authorities, federal prosecutors will likely offer some of them immunity for their testimony against the former president.
Despite Trump's protests, the former president is cooperating with authorities. Trump surrendered to Fulton County officials on the required date and refrained from derogatory comments regarding the jail employees. Instead, Trump is focused on proving his innocence in a court of law. Trump seems determined that the numerous cases against him result from law enforcement being politicized inappropriately to hinder his presidential campaign. Although Trump is the subject of multiple criminal cases, he remains the most popular GOP candidate in next year's election.
Copyright 2023, ConservativeInsider.org