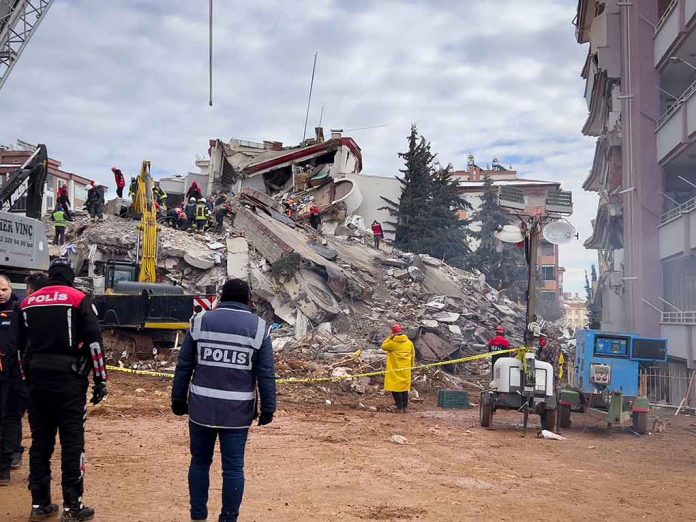 (ConservativeInsider.org) – A pair of earthquakes ravaged Turkey and Syria on Monday, February 6. Over a week after the natural disasters struck, the death toll has hit 40,000 and is expected to continue rising. While search and rescue efforts are still finding a few people alive, the great majority of recoveries are of bodies. After surveying the destruction and loss of life, Turkish authorities are now investigating contractors to see if they cut corners during the building of various apartment buildings that collapsed in the quakes.
On Sunday, February 12, Turkish Justice Minister Bekir Bozdag announced the government will look into at least 131 different people who worked on various buildings that collapsed during the recent tragedy. While the disaster in Turkey was a 7.8 magnitude event, most experts believe many of the buildings that fell should have been able to withstand the shaking it produced.
Turkey's written construction requirements do have high standards for engineering, meaning buildings built to code should remain standing during most earthquakes. But, reports are spreading that these rules are rarely followed or enforced, which left tens of thousands of the country's citizens in danger.
Turkey issues 113 arrest warrants re collapsed buildings. But is it only the contractors? Here's what a survivor told me: It's the local authorities, auditors, architects, engineers. A chain of responsibility. What happens if this chain breaks? Destruction https://t.co/Y4j7wnBlRl

— Selin Girit (@selingirit) February 12, 2023
If contractors did cut corners in order to boost their profits while building the condos and highrises that collapsed, they will likely be held responsible for their shortcuts and the lives that were lost as a result. However, if the government also failed to enforce its own law, many citizens may also demand justice in that case.
Also, videos from 2019 are now circulating showing Turkish President Recep Tayyip Erdogan celebrating the housing projects he pushed to build in the area, many of which collapsed in the quake. At the time, Erdogan praised the new construction for which he got "zoning amnesty" to allow them to be built. However, these zoning changes may have loosened rules surrounding building codes, making the structures less prone to survive an earthquake.
As investigations into contractors and government officials get underway, families of those who lost their lives in these disasters will hopefully get some amount of closure and justice in order to move forward with their lives.
Copyright 2023, ConservativeInsider.org