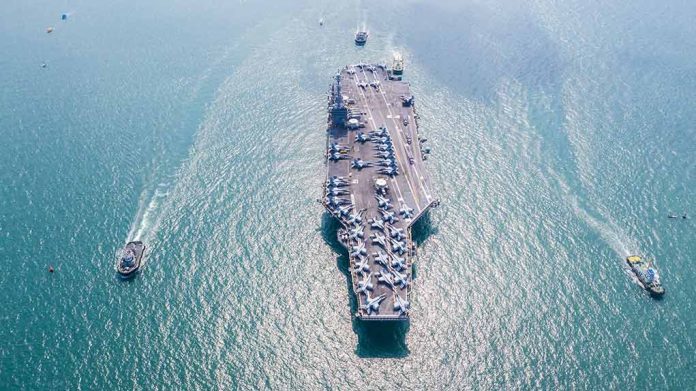 (ConservativeInsider.org) – The power exuded by the awe-inspiring aircraft carrier is second to none. The people on an air-craft carrier move as a symphony to get aircraft on and off the floating city. The ships have the ability to remain at sea for months on end, and to defend and attack. For these reasons and more the Navy is seeking 12 new Carriers from the Pentagon. This would more than double the current fleet of aircraft Carriers as only 10-11 are in current operation.
With enemies like China and Russia there is no doubt that conflict will arise again. The Chinese Navy is already larger than the U.S. in terms of sheer size and equipment. The Russian Navy is likely ranked 3rd but still maintains an impressive fleet of submarines and hardened sailors.
Aircraft carriers are not invincible, as demonstrated recently in the Russian/Ukraine conflict where a Russian ship sank after a missile attack. The Russian ship in question was the flagship of the Russian Navy costing nearly three-quarters-of-a-billion-dollars. It sank to the bottom of the ocean after being struck by two shore-launched Neptune cruise missiles. So perhaps some diversity in spending the Defense budget should be considered before billions of defense dollars are spent on aircraft carriers.
There are 4 aircraft carriers ordered by the U.S. that are under construction at the present time. The oldest aircraft carrier still in service is the Nimitz based out of Bremerton, Washington, which recently turned 48 years old. It has undergone some modernization as needed and it is unclear how the Nimitz and others of age will last in the coming decades. The U.S.S. John F. Kennedy aircraft carrier is currently being finished and should hit the water in 2024.
The defense budget is a massive line item and while there may be a rationale for more aircraft carriers, doubling the fleet of aircraft carriers might not be the best approach.
Copyright 2023, ConservativeInsider.org