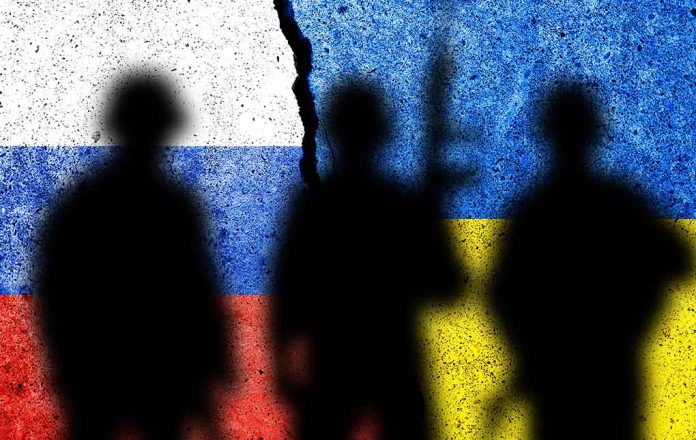 (ConservativeInsider.org) – Russian soldiers have been inside Ukraine for over 420 days at their president, Russian leader Vladimir Putin's command. While the offensive line has certainly had its struggles over the past year, their casualties are now going viral on social media. Ukrainian soldiers recently filmed the successful destruction of two Russian tanks and posted the footage on Twitter.
HIMARS Missile Strikes Russian Tanks
In early April, Ukrainian soldiers used the US-made HIMARS missile system to target two Russian tanks, believed to be T-72 and T-80 series models. The 26th Artillery Brigade, stationed in Berdychiv, carried out this strike. Troops used a Ukrainian Leleka-100 UAV to record the blast.
Two tanks destroyed by the 26th brigade 🔥💪

Cc @Teoyaomiquu pic.twitter.com/L42EFORhwo

— NOËL 🇪🇺 🇺🇦 (@NOELreports) April 16, 2023
The Ukrainian army is publicly celebrating their victories as they continue to get nations from around the world to send them military aid. According to The Guardian, the United States alone has approved 36 different security packages for Ukraine since the war started in February 2022.
Other Recent Successful Strikes Against Russian Forces
This recent footage is not the only time Ukrainian forces have shared their successful ambush of Russian forces on social media. At the end of March, Ukraine's 36th Separate Marine Brigade was able to ambush multiple Russian tanks and personnel carriers driving through the Donetsk region. In this attack, the troops used a Javelin missile launcher, which is a surface-to-air system provided by the United States. Once the attack began, the Russian forces scattered but were unsuccessful at fleeing the ambush.
As of Thursday, April 20, Ukraine's Ministry of Defence believes it has eliminated 3,667 Russian tanks, 308 aircraft, 293 helicopters, and 5,707 vehicles and fuel tanks. The same day, the government announced that Ukrainian President Volodymyr Zelenskyy met with NATO Secretary General Jens Stoltenberg for the first time since the war began. In a statement on its website, the Defence Ministry said it believes the visit is "a sign the Alliance is ready to start a new chapter in relations with Ukraine."
The statement also said Stoltenberg used his visit to highlight NATO's continued support for Ukraine, saying that the large alliance "will stand with you tomorrow, when you will rebuild the country and work for the bright future of the Ukrainian people."
Support Will Continue for Ukraine
While some nations are questioning how long to continue sending money and missiles to Ukraine, others are renewing their vows to help the nation protect itself. NATO acknowledged there will be a long-term plan to update Ukraine's military equipment and policies to ensure the country, which is not currently a member of NATO, aligns with NATO principles in the future.
Copyright 2023, ConservativeInsider.org