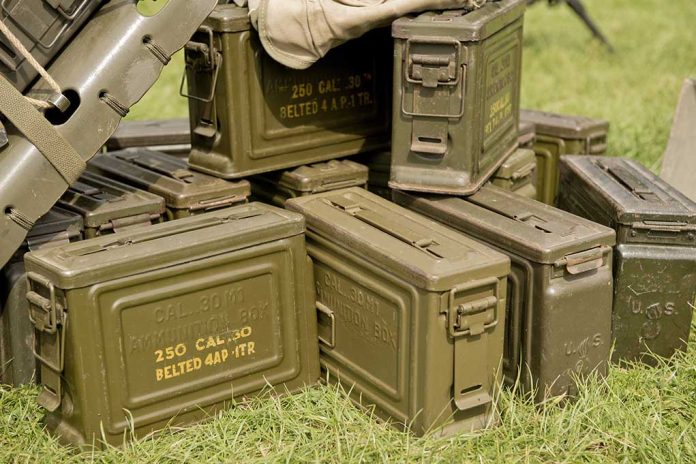 (ConservativeInsider.org) – The Middle East has always seen strife and battles over land, religion, and culture. While this fighting will likely not stop anytime soon, the United States is still committed to keeping the region as safe and stable as possible. Back in December 2022, the US Navy was conducting routine operations in the region when it found enormous amounts of ammunition and weapons parts being smuggled between nations. Now, the Department of Justice (DOJ) is moving to permanently seize the contraband.
On Friday, March 31, the DOJ announced it is filing a forfeiture action after it uncovered one million ammo rounds, thousands of rocket-propelled grenade fuses, and thousands of pounds of propellant found on a boat moving from Iran to Yemen. The operation, believed to have been put on by Iran's Islamic Revolutionary Guard Corps (IRGC), was seeking to arm Houthi militants in Yemen. However, such actions are against international laws and UN resolutions. The Houthis are fighting against the government and a coalition supported by the US and Saudi Arabia.
US lays claim to ammo seized from Iran, alleges 'sophisticated' Iranian smuggling operation https://t.co/QY8zFRQCxy pic.twitter.com/wadZBqG7zw

— Conservative News (@BIZPACReview) April 2, 2023
Defense Criminal Investigative Service (DCIS) Principal Deputy Director James Ives said in the DOJ press release that his agency will continue to deliver justice against those trying to "destabilize communities and countries" and promote "nefarious activities, including terrorism, organized crime, and violent conflicts."
The enormous amount of ammunition and grenade parts were discovered when sailors from expeditionary sea base USS Lewis B Puller boarded an Iranian ship during a flag verification. This seizure came less than a month after the US 5th Fleet found over 70 tons of ammonium perchlorate, a chemical for making explosives and missiles, and more than 100 tons of explosive fertilizer aboard a shipping vessel traveling from Iran to Yemen on November 8.
In this most recent forfeiture complaint, the US highlights how ongoing arms smuggling poses a major threat to national security, as well as regional security, and must be stopped.
Copyright 2023, ConservativeInsider.org