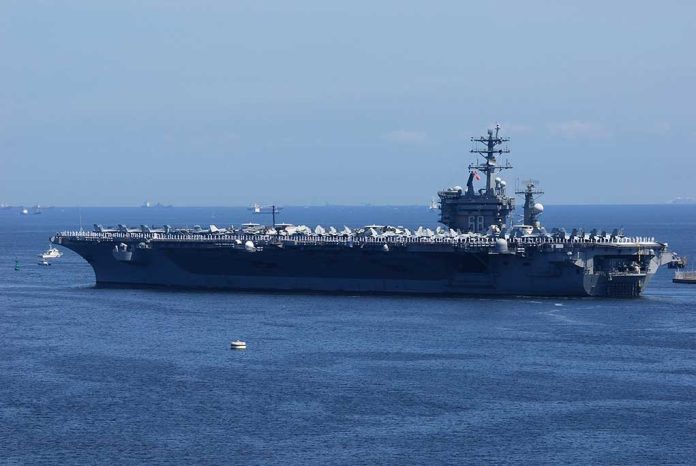 (ConservativeInsider.org) – Every service member knows there's a chance of dying while serving their country. However, three US Navy sailors passed away this week from undisclosed causes as the aircraft carrier they worked on docked in Newport News. Some people are questioning why the Navy is keeping quiet about these deaths.
On Saturday, April 9, authorities found Retail Services Specialist 3rd Class Mika'il Rayshawn Sharp dead somewhere off-base. He enlisted in June 2020 and the assignment to the USS George Washington was his first post after training. His mother said his death was suicide.
Then, on Sunday, April 10, people found the body of Interior Communications Electrician 3rd Class Natasha Huffman, also off-base. She had been serving her country since 2018 and on the George Washington since 2019. The state chief medical examiner's office confirmed her death was also by suicide.
Finally, on Friday, April 15, sailors found a peer unresponsive on the ship. The Navy sent him to a local hospital, where he soon passed away. The Navy has yet to identify this third sailor or disclose the cause of death for the other two. However, Naval spokeswoman Cmdr. Reann Mommsen did tell CNN that, "there is no initial indication to suggest that there is a correlation between these tragic events."
Newsmax shared more details about this developing story:
Navy officials say three tragedies on the same aircraft carrier, USS George Washington, are unrelated. No causes of deaths have been made public, as two of the sailors have been identified and a third has yet to be identified.
https://t.co/XqwKmMAlJv

— Newsmax (@newsmax) April 20, 2022
These deaths are still a mystery, although they should not be at this point. Hopefully, the Navy brings clarity to this string of deaths in order to help prevent more sailors from meeting the same fate.
Copyright 2022, ConservativeInsider.org