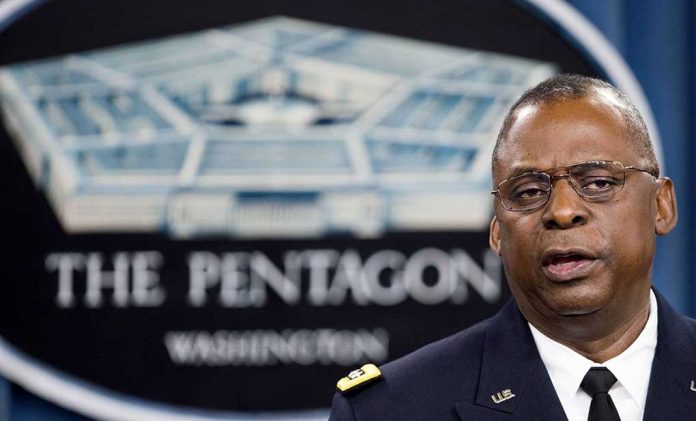 (ConservativeInsider.org) – The US presence in the Middle East has been greatly debated for years, as America has a tendency to insert itself into foreign nations in order to protect its own national security and shore up regional stability. In 2003, the US invaded Iraq to take out terrorist Saddam Hussein after he helped plan the attacks that killed thousands of Americans on 9/11.
Nearly 20 years after that invasion, and over 10 years since we pulled out most of our forces from the country, the US still has around 2,500 troops in Iraq and another 900 next door in Syria. Recently, Defense Secretary Lloyd Austin traveled to Iraq to boost relations with the current government. During his remarks, he said the US is "ready" to stay.
Austin Makes Unannounced Trip to Iraq
The Biden Administration seems to be enjoying its unannounced trips lately, as POTUS recently took one to Ukraine just a few weeks ago to boost support for the country defending itself against Russia. On Tuesday, March 7, Secretary Austin traveled to Iraq and met with Prime Minister Mohammed Shia al-Sudani and his Defense Minister Thabit Al-Abbasi before speaking with reporters. During his media address, the US official emphasized that the military is "ready to remain in Iraq, at the invitation of the Government of Iraq."
Austin condemned the ongoing attacks from the Islamic state, referred to as Daesh, as well as attacks from Iran. This clear affirmation of allyship with the Iraqi government comes as Iran continues to threaten the US and many of its former officials for the 2020 death of Revolutionary Guard Commander, General Qassem Soleimani.
Defense Secretary Continues Tour of Middle East
The same day, Austin flew to northern Iraq to speak with the leader of the Kurdistan region, Nechirvan Barzani and to praise the work his fighters are doing to combat the Islamic State. Austin also planned visits to Egypt, Jordan, and Israel while abroad. However, the rising tensions between Israel and Palestine in the West Bank are threatening to overshadow Austin's visit to the region.
According to The Jerusalem Post, on Wednesday, March 7, Egyptian President Abdel Fattah al-Sisi requested "intensive international efforts" to help bring down tensions in the area during his meeting with the US Defense Secretary.
With the ongoing threats in the Middle East, it is not too surprising the Pentagon wants to keep troops in Iraq to try and increase the stability in the region. However, this pledge to remain in the country also highlights America's seemingly never-ending plan to keep troops abroad.
Copyright 2023, ConservativeInsider.org