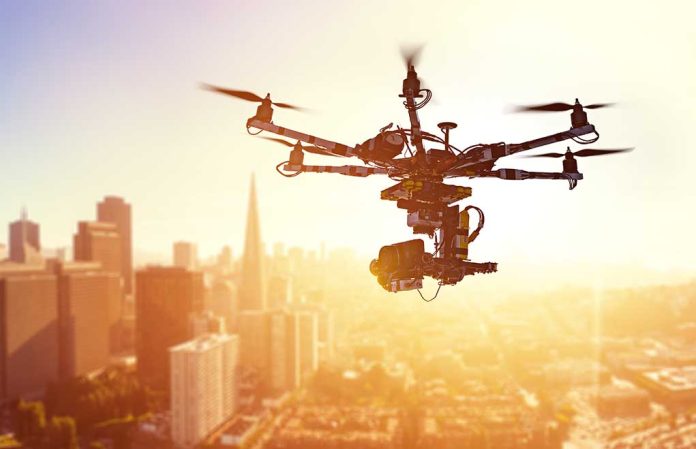 (ConservativeInsider.org) – From the start of Russia's invasion of Ukraine, Ukrainian President Volodymyr Zelenskyy has repeatedly asked Western nations to provide aid to the country's battle to push Russia out of their country. President Joe Biden finally responded on Wednesday, March 16, by announcing an $800 million aid package for the nation. Included are 100 Tactical Unmanned Aerial Systems, more commonly known as drones.
The United States will be sending 100 Switchblade drones to Ukraine to help the nation defend itself against Russian President Vladimir Putin's aggression. Nicknamed "kamikaze drones" or "killer drones," soldiers launch these devices into the air from a tube before they hover for up to a half-hour and descend onto their target. The drones carry both explosives and cameras, and explode when they hit their intended target.
AeroVironment, the company that makes these weapons, created a 300 version for short-range missions that weighs barely over 5 pounds and a 600 variant that weighs over 120 pounds with a 40 mile range. The US has not disclosed which option it is providing to Ukraine.
Ukraine's Center for Strategic Communications and Information Security shared more of the aid that Biden is providing its nation on Twitter:
President Biden said the U.S. intends to provide Ukraine with $500 million in direct budgetary aid, per WH readout of call with Zelensky today.

The U.S. began delivering an $800 million package of military aid to Ukraine last week that will include Switchblade drones. pic.twitter.com/N5WWod8ijs

— Stratcom Centre UA (@StratcomCentre) March 30, 2022
Ukrainians will likely use these new weapons on Russian troops and tanks that cannot be easily targeted by troops on the ground. Hopefully, this aid provides the resilient nation the strength it needs to push Russia back into its own territory.
Copyright 2022, ConservativeInsider.org