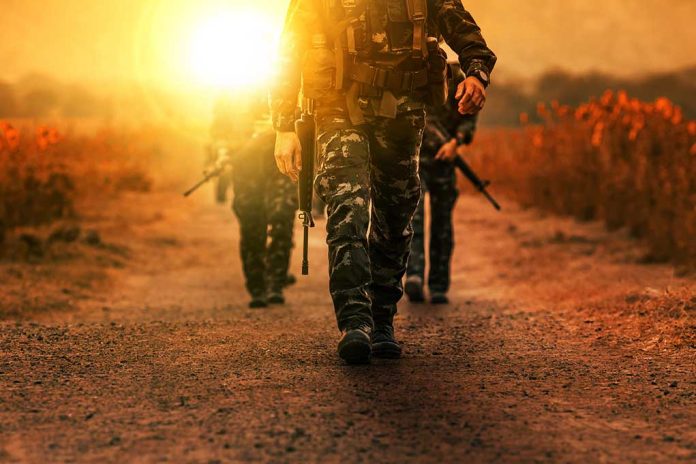 (ConservativeInsider.org) – American intel is highly protected, and it takes an extensive background check to get hands on top secret information. However, that is precisely what one bad actor did when he began leaking documents in recent weeks about US support for Ukraine, among other things. One image shared on social media sites shows there are already US troops on the ground in Ukraine, which, if true, could cause even more international tension.
US and NATO Troops in Eastern Europe
According to an image of a leaked document dated March 23, 2023, there are 14 American troops in Ukraine, 50 from Great Britain, 15 from France, 17 from Latvia, and 1 from the Netherlands. While Ukraine is not a NATO member or official ally of America, we have been supporting the nation in order to keep Russia from gaining more ground in Eastern Europe. If true, this aligns with a report from former US Army soldier John McIntyre who initially started fighting for Ukraine but switched to fighting for Russia, according to the National File. He said there were already numerous Americans in Ukraine openly speaking with federal agencies.
🚨 John Kirby confirms US military is on the ground in Ukraine 🚨

Kirby : "I won't talk to the specifics of numbers and that kind of thing. But to get to your exact question, there is a small U.S. military presence at the embassy"
This confirms that the leaked documents from… pic.twitter.com/7DWbMDB4tS

— Chad (@Not_ADemocracy) April 12, 2023
These troops are in addition to those already deployed to Eastern Europe with NATO, according to VOA News. These soldiers abroad near the warzone are going through an Air Assault course and even training people from other countries, including Romania, France, and Slovakia. In Romania alone, the number of US boots on the ground has tripled from January 2022 to April 2023, with around 3,000 at the border now.
Other Intel From Leaked Documents
It is not just Ukraine that is upset by the leaked intel. According to The Washington Post, one document reveals supposed discussions between Egyptian President Abdel Fatah El-Sisi and his advisors, saying they may send secret rocket shipments to Russia. The documents also show how the US government has allegedly infiltrated the Russian Army and Iran's nuclear program.
Another paper seemed to show that Serbia had sent military aid to Ukraine, a claim that nation denies. In a statement, Serbian Defense Minister Milos Vucevic said the falsified document makes it clear that "Someone obviously aims to drag Serbia into the conflict." In another paper, the intelligence alleges Israel's Mossad spy service tried to assist citizens in overthrowing the proposed judicial changes to the government, a charge it has also denied.
These are just some of the stories coming out of these leaked documents. The US has arrested a 21-year-old Massachusetts National Guard member believed to have leaked these secrets. If they have the right man, no more documents should emerge from this particular breach.
Copyright 2023, ConservativeInsider.org