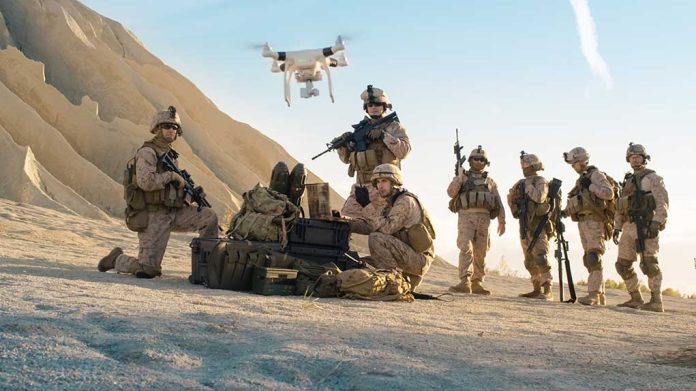 (ConservativeInsider.org) – US troops in the Middle East put their lives on the line every day to protect America's national security. American soldiers did just that when they shot down two suicide drones heading to destroy a US-Iraqi airbase west of Baghdad, but there's a twist. This week marks the second anniversary of the assassination of Islamic Revolutionary Guards Corps (IRGC) Quds Force Commander Qassem Soleimani.
On Monday, January 3, US troops shot down two armed drones with a counter-rocket, artillery and mortar system, or C-RAM, as they approached Ain al-Asad Airbase, an international airport near Baghdad. While the Baghdad Diplomatic Support Center shot the drones down "without incident," the assailants made the motive for the attack quite clear. One drone had "Soleimani's revenge" written on the wing, as the date marked two years since the Iranian commander's death.
Reuters shared a photo of one of the two drones:
Drone attack on U.S. forces foiled west of Baghdad https://t.co/0ZjFmZxDhA pic.twitter.com/op2YEfdqj7

— Reuters (@Reuters) January 4, 2022
The drone attacks followed shortly after Iranian President Ebrahim Raisi's speech demanding former President Donald Trump stand trial for Soleimani's death. Raisi declared that Muslims "will take our martyr's revenge" on Trump "under the (Islamic) law of retribution." With this, it's quite clear Iran wants revenge. Thankfully, US troops and technology are able to combat these threats with ease, for now.
Copyright 2022, ConservativeInsider.org