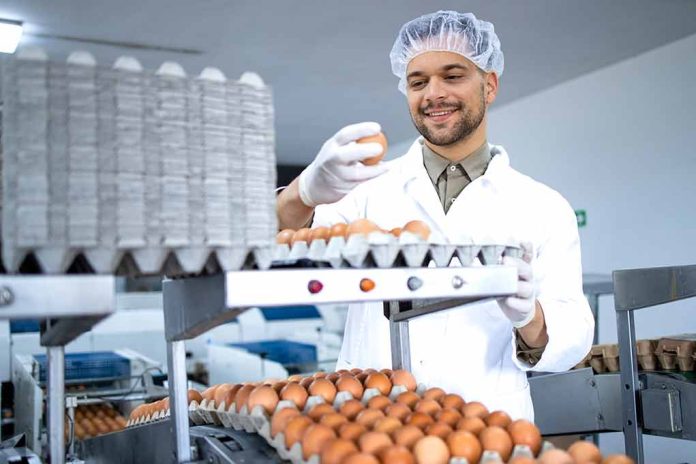 (ConservativeInsider.org) – The Utah Legislature passed a law that egg facilities will be required to be "cage-free" by 2025. The law is not explicit in how the state plans to ban the selling of non-cage-free eggs. Egg producers are asking lawmakers to consider banning the sale of non-cage-free eggs before the law takes effect. The law, while well-intentioned, lacks the teeth to support local egg producers fully.
Among the western states involved in similar laws and regulations, this law came about with support from the Utah Retail Merchants Association, many consumer and animal rights groups, as well as overall support by the egg producers. It was a bipartisan project touted as proactive and well-endorsed by the public.
Over 24 million eggs in Utah are produced weekly, or 1 billion annually. Iowa, the largest egg producer, counts approximately 15 billion eggs annually. Some consider the law in question progressive and part of an overall trend
Some areas have seen record-high prices for a dozen eggs due to the post-pandemic supply chain system and inflation. Despite higher prices, consumers are favoring "cage-free" eggs over conventional eggs. Utah, becoming the 8th state to adopt such laws, shows progress toward protecting the food production farming industry but falls short, according to some animal groups. Cages are still allowed in meat production farms, and still allow the practice of chick-culling, wherein male chicks are slaughtered as chicks as they don't produce meat or eggs.
The Utah Department of Agriculture and Food, the entity responsible for enforcement is assisting in what could be a costly implementation of the law. Consumers have indicated the desire for cage-free eggs as a priority, and retailers are taking notice. Consumers who love eggs find delicious fresh eggs closer to home. Local, fresh eggs are an easy, tasty, and nutritious option that is enjoyed by more and more people every day.
Copyright 2023, ConservativeInsider.org