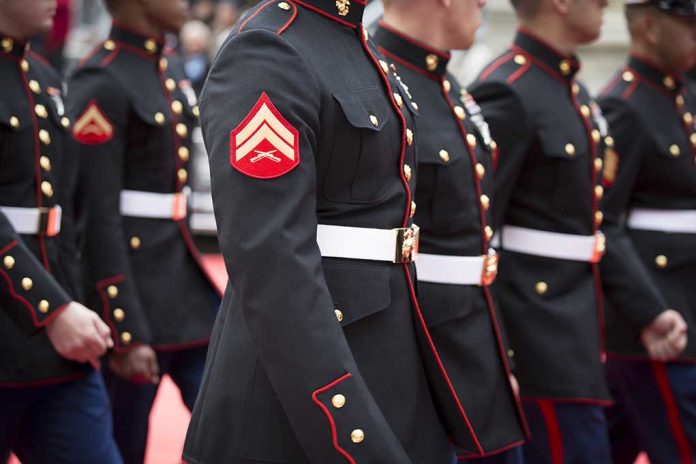 (ConservativeInsider.org) – Daniel Penny, a veteran of the US Marine Corps, who was arrested and eventually charged with second-degree manslaughter following the death of violent career criminal Jordan Neely on a New York subway train, has received support from many prominent ex-Marines over his use of a chokehold to restrain Neely prior to his death.
Penny had been initially released without charge by law enforcement following the initial investigation into Neely's death, which came after Neely had threatened other passengers on the train with harm, saying that "he didn't mind if he got life in prison". Penny had publicly stated that he had no intention to kill or to permanently injure Neely, but threats of mob violence on the streets of New York were apparently enough to prompt the Manhattan District Attorney, Alvin Bragg, to press charges.
Many former Marines took to social media to highlight the fact that the chokehold, widely publicised by people who recorded the events on the train on their cell phones at that time, was a staple part of basic Marine training, and had apparently been correctly applied to induce the subject to pass out without interfering with his breathing. Many commented that it was an appropriate application of force given the circumstances, and that it was just unfortunate that Neely's actions resulted in his death.
However, as Jordan Neely was black, and Daniel Penny is white, professional race-grifters such as Al Sharpton sprang into action to stir up the black community and to draw comparisons with the death of George Floyd, another violent career criminal who died while being restrained by police officers in 2020. At that time, many lives were lost and millions of dollars' worth of damage was done as rioters burnt, looted and murdered their way across America in the name of Black Lives Matter (BLM).
The legal defense fund which has been set up for Daniel Penny has now received over $2 million.
Copyright 2023, ConservativeInsider.org