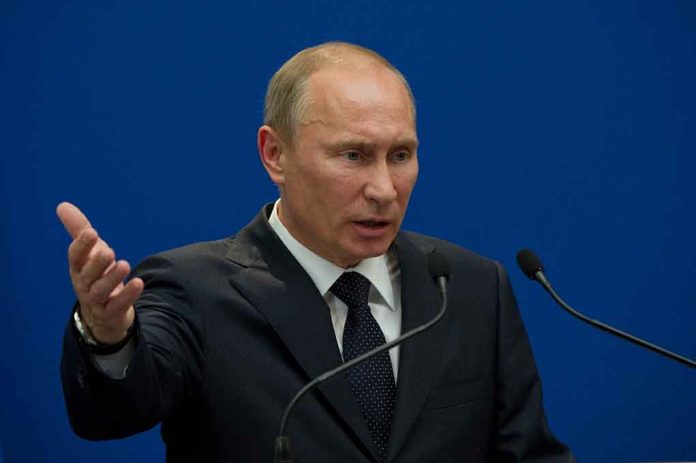 (ConservativeInsider.org) – Since Russian President Vladimir Putin sent his troops into Ukraine to fight an unprovoked war that is still going on today, tensions around the world have only gone up as Putin's threats of nuclear war also rise. On Tuesday, February 21, the Russian leader announced he was suspending his nation's participation in the New START nuclear arms treaty, which limited the number of nuclear weapons the US and Russia agreed to have and maintain. Now, he is telling his people NATO wants his country wiped off the map.
According to the Russian news agency TASS, on Sunday, February 26, Putin spoke with state media channel Rossiya-1 TV and declared that "all leading NATO countries have announced our strategic defeat as their key goal for making our people suffer." He then went on to ask how he and his advisors could not take the "nuclear potential" of other Western nations into account amid the growing tensions.
"All the leading NATO countries have declared their main goal to inflict a strategic defeat on us," Putin told state television channel Rossiya-1. https://t.co/y7gZpjU9N0

— Newsweek (@Newsweek) February 26, 2023
Putin's distancing himself from the New START treaty came as a top Chinese advisor met with his staff to likely discuss if China would provide Russia with military aid. While China says it will not give Russia any weapons, intelligence officials are still quite cautious about the blossoming relationship between the two powerful nations.
Many of Russia's similar nuclear threats over the past few weeks have come as Putin demands the west not provide aid to Ukraine. According to Reuters, even former Russian president and supporter of its current leader Dmitry Medvedev said if the West continues to supply arms to Kyiv, it will bring about "a global nuclear catastrophe."
While all these comments certainly sound like doom and gloom are on their way, it is important to note that Russia has not held fast to its threats, even as Saudi Arabia, often seen as an ally of Russia, announced it is sending $400 million in aid to Ukraine.
Copyright 2023, ConservativeInsider.org