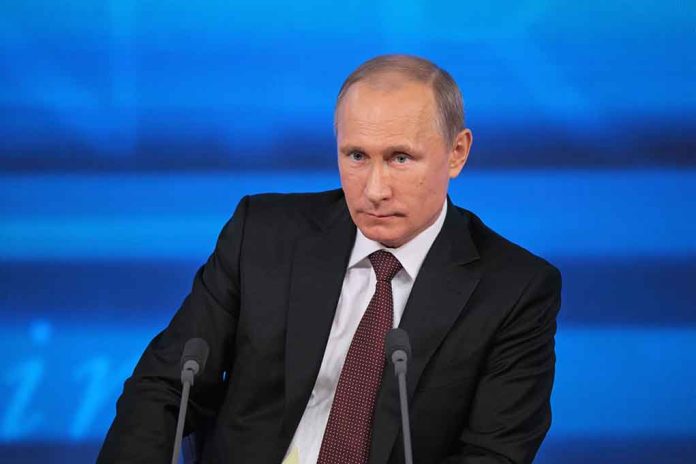 Vladimir Putin Classified "TREATMENT" Report Leaks To Public
(ConservativeInsider.org) – Russian President Vladimir Putin has been in power for decades and has used his influence to turn Russia into what it is today. However, new reports show that he may be quite ill, with death imminent. But, if this intelligence is correct, his departure from the political sphere would leave quite the power vacuum.
On Thursday, June 2, Newsweek published an exclusive report that multiple US intelligence officials read a report that Putin received treatment for advanced cancer in April. According to the article, someone also attempted to assassinate the Russian president in March.
This potential illness could be straining Putin to become even more paranoid about holding onto power and leaving a legacy behind, such as conquering Ukraine. Author Michael Weiss shared more about this new development on Twitter:
Plot thickens further. "The classified U.S. report says Putin seems to have re-emerged after undergoing treatment in April for advanced cancer, three U.S. intelligence leaders who have read the reports tell Newsweek." https://t.co/Pzi8lvRUTT

— Michael Weiss 🌻🇺🇸🇮🇪 (@michaeldweiss) June 2, 2022
The intelligence insiders did emphasize that Americans should not give in to "wishful thinking" at the impending end of Putin's reign, as "a power vacuum after Putin could be very dangerous for the world."
There is speculation as to who would lead Russia in the event of Putin's death. Some reports say Russian Prime Minister Mikhail Mishustin would take over, while others believe Nikolai Patrushev, the head of the Russian federal police security council, would be next in line until an election could be held. Of course, there may be someone waiting in the wings to take over should a vacuum occur. Either way, such a shift in power would be sure to shake up the whole Eastern hemisphere — if not the world.
Copyright 2022, ConservativeInsider.org