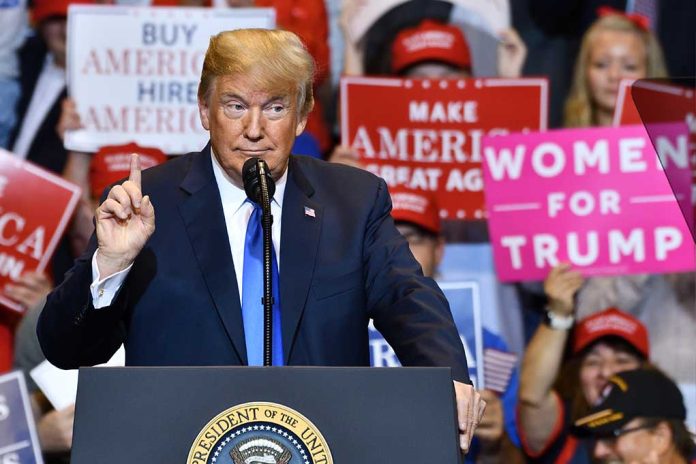 Someone Threw a Pen and Hat at Trump, He Caught Them Both Mid-Air
(ConservativeInsider.org) – Former President Donald Trump seems to always have his wits about him. Whether he has a snarky remark for a reporter or is prepared to go toe to toe during a debate, he is constantly ready to interface with people, something that cannot always be said of our current president. After a two-hour rally in Michigan last weekend, the 45th president showed off his agility and quick hands with a feat few 76-year-old men could repeat.
After the Warren, Michigan, Save America rally on Saturday, October 1, an attendee threw a ball cap and thin pen to Trump as he walked off stage. Quick on his feet, the former president snatched both out of the air, signed the hat, and tossed both items back to the owner in a matter of seconds. Many cameras caught the impressive move on video.
#TrumpRallyMichigan ends with amazing demonstration of Trump's agility vs Biden's.

Wait for it – Trump catches a #MAGA hat then THIN PEN out of air; signs the hat, and throws both back to owner! pic.twitter.com/kFkqFWq7pY

— Motown MAGA 🇺🇸🏴󠁧󠁢󠁳󠁣󠁴󠁿🏴󠁧󠁢󠁷󠁬󠁳󠁿 (@MIRedState) October 2, 2022
If Trump chooses to run again for president in 2024, this moment is a clear example of how he is still on top of his game physically and mentally, two essential requirements of being the leader of the free world. However, many Americans also used this example of the former president's vitality to highlight how such a thing would be quite difficult for President Joe Biden to do right now.
If a leader is to serve this nation well, he must be held accountable for his mental and physical acuity for as long as he holds the office of President of the United States.
Copyright 2022, ConservativeInsider.org