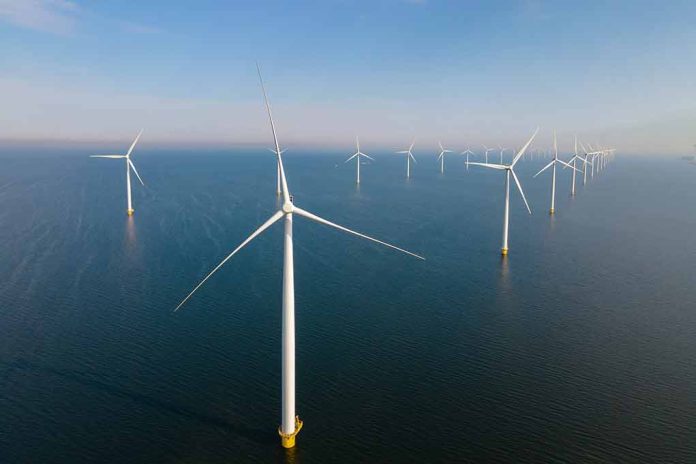 (ConservativeInsider.org) – In an opinion piece for the Daily Caller, lawyer and senior fellow at the Energy & Environment Legal Institute, Steve Milloy alleges that offshore wind farms are the cause of an increase in whale deaths. These deaths, Milloy claims, are legally permitted by the government in the form of permits from the National Oceanic and Atmospheric Administration (NOAA). Each time NOAA gives a company a permit, they allow a certain number of "takes" of each species that might be affected. For example, one potential permit allows the "takes" of 2,678 dolphins, 1,472 seals, and 42 whales.
While proponents of "green energy" argue that these "takes" only allow some "ecosystem displacement" or minor injury, Milloy argues that the permitted number of "takes" is a permit to kill wildlife, as the industry will point to these permits when animal deaths occur. As part of the push from Democrats and the Biden administration to promote "green energy," any company or industry that plans to create offshore wind farms is given significant tax credits.
Milloy isn't alone in arguing that offshore wind farms kill marine life—the co-founder of one of the oldest and most recognized environmental groups in the world, Greenpeace, also says offshore wind farms are creating "death zones" for whales. Patrick Moore, former president of Greenpeace Canada, who has since distanced himself from the organization, believes the creation of offshore wind farms disrupts the acoustics within the ocean, harming the ability of whales to navigate and leading to their deaths.
Over 200 dead humpback whales have washed up on the East Coast since 2016, which NOAA calls an "unusual mortality event." While NOAA acknowledges the deaths, they are refusing to allow any investigation into the cause of the significant increase in whale deaths. NOAA and the Marine Mammal Commission argue that there is "no evidence" to support a link between the increase in offshore wind farms and the increase in whale deaths.
Copyright 2023, ConservativeInsider.org