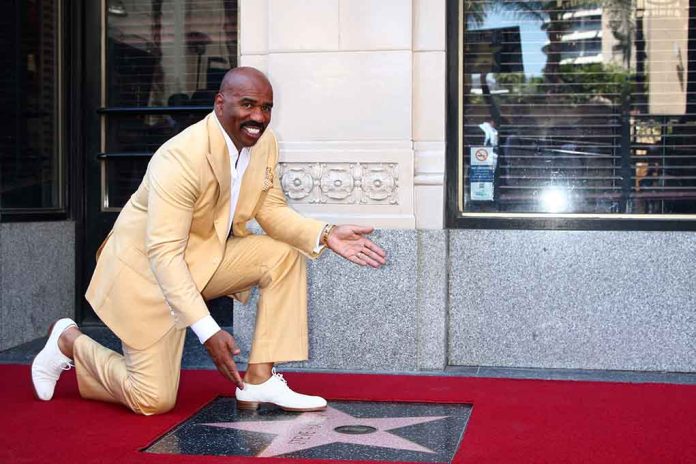 (ConservativeInsider.org) – No one enjoys paying taxes, but game show and Miss Universe Pageant host Steve Harvey has more reason than anyone to get frustrated about them. In a "Earn Your Leisure Podcast" interview with Rashad Bilal and Troy Millings, the stand-up comedian revealed how his personal accountants stole the money meant to pay his taxes and instead left him with a multi-million dollar tax bill.
On Tuesday, March 15, Harvey spoke with podcast hosts about how a previous personal accountant from the early 2000s cashed his checks meant to pay taxes, kept the money, and chose not to turn in his tax forms. The game show host learned of this scheme after his dishonest accountant died and someone else took over, quickly telling him of the horrific scandal.
Rather than trying to avoid the payments, Harvey chose to do the right thing. He paid $650,000 a month for 7 years until his $22-million debt to the IRS was gone.
Many Americans shared their astonishment at Harvey's dedication to working hard to pay the hefty bill in this current climate of entitlement and government handouts:
Steve Harvey talking about how he paid the IRS $650,000 a month for 4years because his accountant was robbing him blind and stealing his cheque payments is crazy. No wonder he has been one of the most hard working men in television. The taxes weren't going to repay themselves. 🤯

— ✨👑 DaddyMO👑✨🏁 (@therealdaddymo1) March 19, 2022
Harvey took "every gig and every contract" he could until he finally got a "big deal" in 2012 and paid off the debt in full. Few people can fathom paying a $650,000 monthly bill for years on end, but Steve Harvey showed that with some hard work and a movie star salary, it can be done.
Copyright 2022, ConservativeInsider.org