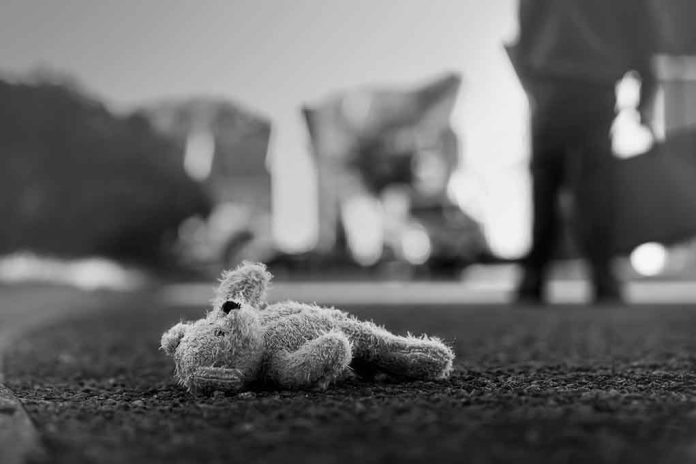 (ConservativeInsider.org) – Childhood is often filled with time spent outside exploring one's yard or the neighborhood. However, when three boys were recently exploring in Russell County, Alabama, one life was cut short after a homeowner allegedly shot a 12-year-old while he was on her property. Here's what happened.
On the evening of Wednesday, February 1, Connor Mullens, his brother, and a friend were playing outside on the edge of Tywoana Anderson-Jakes' property. Jakes saw the trio from her home, which was on the opposite side of the street, and came outside. Two boys ran away, and Jakes allegedly shot the third, who stayed and bent over. The bullet hit Mullens in the neck and killed him instantly.
Phenix City, Alabama. 50-yr-old Tywoana Jakes has been charged with capital murder for killing 12-yr-old Connor Mullens on a lot across the street from her main residence. District Attorney Rick Chancey said she appeared to have little remorse. https://t.co/aTDsjLZvNB pic.twitter.com/vOTousqT7Q

— Southern Man (@MagicBelle1) February 3, 2023
Authorities arrested Jakes and charged her with capital murder, as Mullens was younger than 14 years old. She is being held without bond.
According to WRBL, Russell County District Attorney Rick Chancey called this case "extraordinarily serious" and noted that the state will also look into a shooting that occurred on her property in September 2022 that left one man injured. At her first court appearance, Jakes' family told reporters that Tywoana Anderson-Jakes was "not the same" since she lost her own son in 2011 in a shooting incident.
Jakes will appear in court on March 6 for a preliminary hearing where she will have her own hired attorney in attendance.
The family of Mullins spoke with WTVM News Leader 9 after his death and expressed their heartbreak over the loss of Connor. His mother said she is struggling to accept her son's death. According to the report, Connor and his brother were walking to Dollar General to purchase Takis chips, one of their favorite snacks. Connor has five siblings who are now left without their brother, who is said made the best of even hard days.
Copyright 2023, ConservativeInsider.org