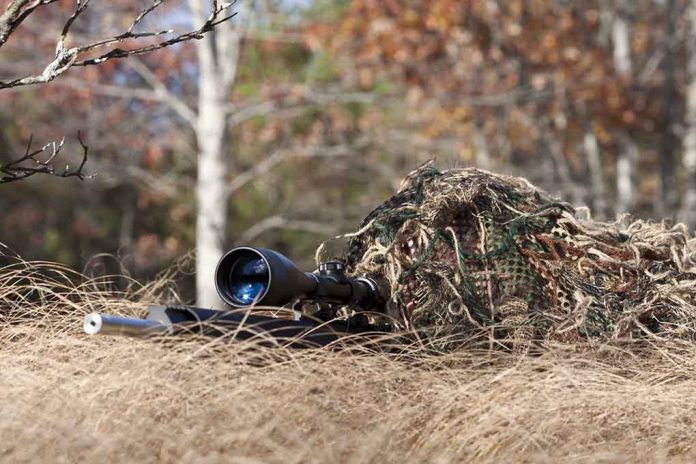 (ConservativeInsider.org) – As the world watched Russia invade Ukraine in late February, so many people felt helpless, unable to assist the millions of civilians under siege by President Vladimir Putin's army. However, Ukrainian President Volodymyr Zelenskyy gave some people a way to help. On February 27, he asked people from all around the world to help defend Ukraine from "the Russian war criminals." Now, people are responding, including one of the deadliest snipers in the world.
Tens of Thousands of Volunteers Answer the Call
According to Ukrainian Foreign Minister Dmytro Kuleba, over 20,000 volunteers have begun going to Ukraine to help the nation defend itself against the Russians. These people are coming from at least 52 countries to answer Ukraine's call.
Among this group is a world-class Canadian sniper nicknamed Wali. He previously served in the Royal Canadian Infantry's 22nd Regiment in Afghanistan from 2009 to 2011 and spent time in Iraq fighting ISIS in 2015. Many news outlets believe he is the sniper who successfully killed an ISIS militant in June 2017 from over two miles away in Mosul, one of the longest successful shots in history.
Since leaving the Canadian army, Wali became a computer programmer and started a family. But, even that didn't stop him from volunteering for Ukraine. He told Canadian news agency CBC, "I want to help them; it's as simple as that." He also told the French-Canadian newspaper La Presse he is "short-circuiting Canadian politics" by heading overseas himself, rather than waiting for the rest of the world and its governments to get a plan together.
Wali Crosses to Ukraine From Poland in the Dead of Night
Alongside three other Canadian veterans, Wali crossed the border from Poland into Ukraine at an undisclosed location in early March. Upon their arrival, Ukrainians met the soldiers with hugs and handshakes to welcome them to their nation and thank them for their bravery. Wali said it was "like we were friends right away." Currently, the Canadians are preparing to deploy to various army battalions to fight on the frontlines of the war.
Wali's sacrifice does come at a cost. Aside from the immediate danger of war, he also is missing his son's first birthday. In an interview with CBC, he called that the "hardest part" of joining in the war. However, Wali's sacrifice will not go unnoticed, as he joins the many other heroes already fighting to defend Ukraine.
While Russia continues to bombard Ukraine, reinforcements are arriving in the eastern European nation. Hopefully, these citizens from around the world will give the smaller country the strength and encouragement needed to continue to defend their freedom from Putin.
Copyright 2022, ConservativeInsider.org