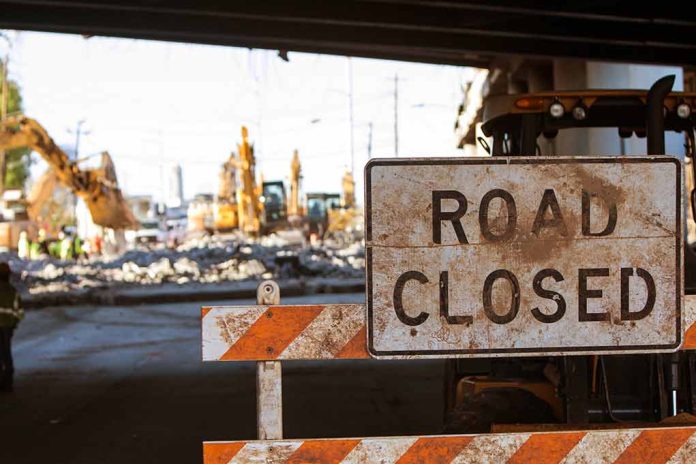 (ConservativeInsider.org) – Maine Open Lighthouse Day is a yearly event sponsored by the U.S. Coast Guard to celebrate, educate, and show off the wonderment of Maine's coastal lighthouses. The Doubling Point Lighthouse is a working lighthouse that has been in that location since 1899. Many of Maine's lighthouses are not accessible by land and require a boat or kayak to visit, but some, like the Doubling Point Lighthouse, are attached to land with a walkway.
In 2001, the Doubling Point Lighthouse was retrofitted with a new foundation and a new walkway from the lighthouse across the marshy, rocky shore, over the edge of the Kennebec River, to the solid beach. The Friends of the Doubling Lighthouse non-profit organization provided these funds. On September 9th, 2023, a section of this 22-year-old walkway collapsed with 11 people on it. No serious injuries were sustained, and five people were evaluated for minor injuries.
The Maine Open Lighthouse event is operated by the Maine Office of Tourism and the American Lighthouse Foundation and attracts around 18,000 visitors annually. It is a rare opportunity to climb the spiral stairs and learn about many of Maine's iconic and beautiful landmarks that have stood the test of time while providing an essential service for the seafarers of the area.
In 1789, Congress approved an Act to support lighthouses, beacons, buoys, and public piers. Celebrating that Act 200 years later, in 1989, Congress passed the resolution to designate August 7th as National Lighthouse Day and provide a coordinated effort to preserve Lighthouse structures and history. As of 2023, the lighthouses are a burden, and the U.S. government is giving them away to local governments or non-profit groups.
Maine retains two spots on a travel list of the ten most famous and beautiful lighthouses to visit in the United States. Many lighthouses have been restored and modernized, but many are crumbling in disrepair.
Copyright 2023, ConservativeInsider.org