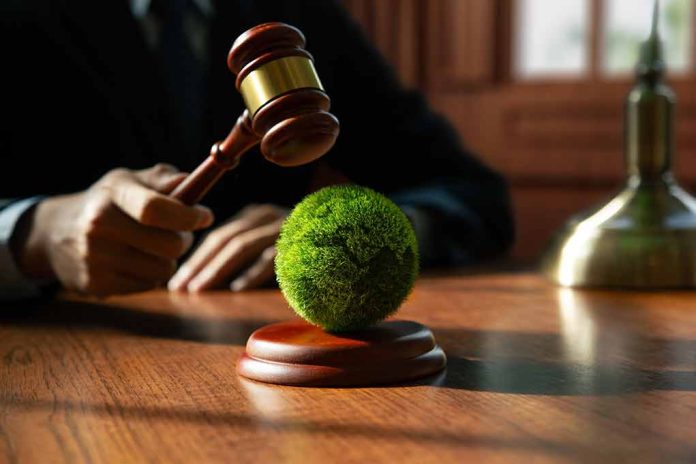 (ConservativeInsider.org) – The State of California recently filed a lawsuit against some of the largest oil companies in the world, claiming the fossil fuel companies knew the damage their products were causing to the planet while lying to the public about it. The companies listed in the lawsuit are Shell, BP, Exxon Mobil, Conoco Phillips, and Chevron, along with the American Petroleum Institute, the lobbying group for the domestic oil industry.
The suit is asking for the oil giants to support a fund that would be used for recovery efforts after extreme weather events caused in part by climate change, like wildfires and heavy storms, which California has been experiencing for the last few years.
California Governor Gavin Newsom made a statement that taxpayers shouldn't be paying "billions of dollars in damages" brought on by climate change related events. The industry immediately pushed back, with Ryan Meyers, a senior vice president of the American Petroleum Institute calling it a "meritless, politicized lawsuit" that was being used as a "distraction" and "waste of … taxpayer resources."
The lawsuit comes days after a Wall Street Journal report revealed the Exxon Mobil executives have been internally raising concerns about the harms their product was causing for years while the company formulated strategies to convince the public that concerns about climate change were overblown. According to a similar lawsuit, major oil companies spent billions of dollars spreading disinformation about climate change, despite having studies funded by their own companies showing that burning fossil fuels was detrimental to the environment.
Rob Bonta, California Attorney General, spoke with PBS and said that if these oil companies had not lied and minimized the threat of climate change, perhaps the public would have reacted differently or changed their behaviors and consumption years ago.
This is not the first lawsuit against an oil and gas company for issues related to climate change, as several other states and dozens of municipalities have filed similar lawsuits, but it is likely to be the biggest.
Copyright 2023, ConservativeInsider.org