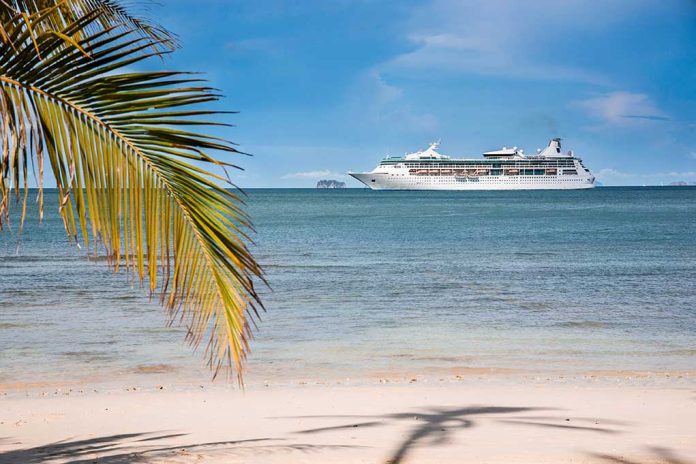 (ConservativeInsider.org) – The cruise ship Ocean Explorer has struck ground off the coast of Greenland near the Northeast Greenland National Park. This is the most northern national park reserve in the world. The ship is 343-feet long and carrying 206 people as of Sept. 12, including many Americans.
A Danish Navy Ship was headed to provide aid in addition to Joint Arctic Command after a fishing vessel and a research vessel failed to pull the ship free. The Ocean Explorer ship belongs to the Ulstein Group. Two years ago, the ship began service and is considered a luxury ship based on size, occupancy and accommodation. The electronic systems aboard are top of the line considering their destinations and it is unclear how this incident occurred. This cruise line specializes in routes and expeditions to visit the remote corners of the world.
The National Park is so secluded that Greenland's tourist board allows only a very limited number of ships and people to visit each year. They note that more people reach the top of Mount Everest every year than visit The Northeast Greenland National Park.
The park boasts several thousand musk oxen in addition to polar bears and walrus. Several birds also reside in the area in addition to narwhal, beluga whales, and other artic sea mammals. There are no permanent residents, but many researchers stay in the area nearly year-round depending on conditions. The area is considered a designated international biosphere reserve and is monitored by the Greenland Department of Environment and Nature and the International Artic Command.
The cruise line has confirmed that the safety of each person aboard is their primary goal. The U.S. State department in Denmark and Greenland is monitoring the situation as American citizens are on board but there is no indication of damage to the ship or danger to the passengers.
Copyright 2023, ConservativeInsider.org