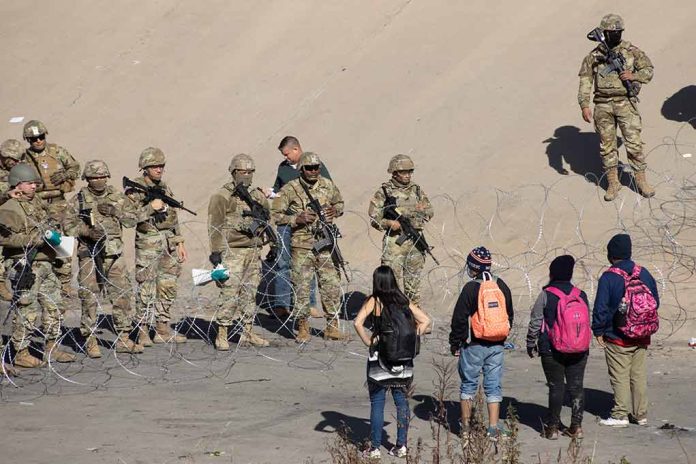 (ConservativeInsider.org) – Early Thursday, the Texas House passed three bills aimed at increasing border security, including one measure that would appropriate over $1 billion to construct additional barriers on the border after a contentious and often heated debate on Wednesday, The Texas Tribune reported.
The House also approved one measure allowing police officers to send illegal aliens back over the border and another measure increasing the penalties for human smuggling.
The bills passed after hours of heated debate on Wednesday with Democrat members vehemently opposed to the measures.
The most contentious opposition was over House Bill 4 empowering the police to apprehend or deport illegals crossing the border. The bill makes it a state crime to illegally cross into Texas from Mexico and authorizes state police to arrest illegals and return them to a port of entry where they will be deported to Mexico.
The trio of bills is the latest effort in the state's push to deter illegal aliens from crossing the border into Texas. The state has already spent billions on Governor Greg Abbott's Operation Lone Star and the new legislation proposes to spend another $1.5 billion.
The House passed House Bill 6 in an 84 to 61 vote. The measure would appropriate $1.5 billion to fund efforts to construct border barriers on different points of the 1,200-mile border Texas shares with Mexico.
The one-page measure states that Texas will pay five contractors to construct another 50 miles of barriers and maintain the 40 miles currently planned.
House Bill 6 now moves to the Senate.
The House also approved Senate Bill 4 in a 90 to 57 vote. The bill increases the minimum sentence for human smuggling or operating a stash house from two years to ten years. The measure was already approved by the state Senate and will now go to Governor Abbott for his approval.
Copyright 2023, ConservativeInsider.org