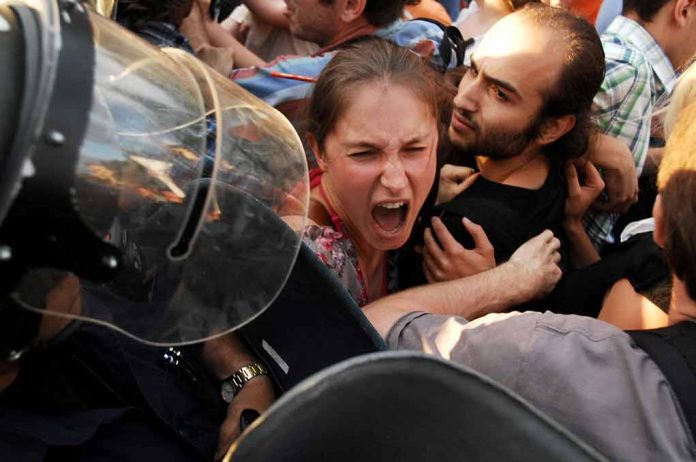 (ConservativeInsider.org) – Violent scuffles broke out at an anti-migrant protest outside the mayor's residence in New York City this weekend, leading to five arrests. One arrest was for assault, one arrest was for assault and resisting arrest, and three arrests were for disorderly conduct and obstructing governmental administration.
More than 100 demonstrators protesting the recent surge of migrants being housed in NYC appeared outside Gracie Mansion on Sunday, including counter-protesters who were there to support the migrants. Strong feelings and harsh words from both sides led to physical altercations and a chaotic scene.
The conflict arises as the city has taken in over 100,000 migrants from the southern border this year. The city has been scrambling to find places to house the influx of migrants, with politicians resorting to creative strategies to create 200 emergency shelters, such as converting old schools into migrant shelters. Residents who live in the areas where these emergency shelters have been created have been concerned over rising crime and potential issues associated with a surge of migrants in their neighborhoods.
Residents bristled at being called anti-immigrant, saying they support immigrants but were deeply frustrated that local officials had been lying to them about plans to create emergency shelters in their neighborhoods. Many acknowledged that the mayor did not cause the ongoing migrant crisis, but that he and the federal government needed to do more to deal with it.
Some protestors suggested that the mayor should house incoming migrants in Gracie Mansion, an idea the mayor himself brought up in June before backtracking the following day.
One protestor, Guardian Angels founder Curtis Sliwa, pointed out that as long the city is letting migrants "skip the queue" by putting them up in hotels and feeding them, more migrants will keep coming. He pointed out that there are veterans and homeless Americans who are not treated so well.
According to officials, approximately 60,000 migrants and asylum seekers are being "cared for" by the city.
Copyright 2023, ConservativeInsider.org