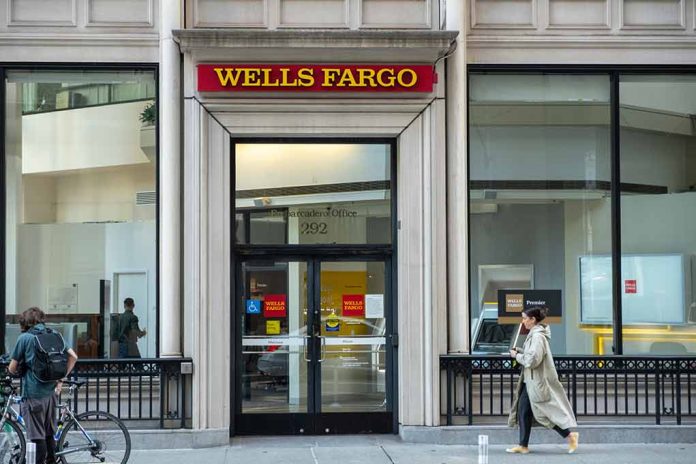 (ConservativeInsider.org) – Federal officials issued an order to Wells Fargo, demanding the bank get better at catching users committing financial crimes. The order comes as Wells Fargo faces a lawsuit for allegedly failing to stop a $460 million scheme facilitated through their business. Wells Fargo now faces heavy scrutiny from the Federal Reserve due to its violation of the Bank Secrecy Act.
The Bank Secrecy Act requires financial organizations, like Wells Fargo, to assist federal authorities in preventing financial crimes. Wells Fargo failed to file Suspicious Activity Reports, a required report under the act, prompting the Securities and Exchange Commission to bring charges against the financial institution. Wells Fargo agreed to a $7 million fine and settled the SEC charges.
Wells Fargo became the subject of a scandal in 2016 after being exposed by the Consumer Financial Protection Bureau for allowing the creation of millions of user accounts to boost business statistics without consent. Following the scandal, lawmakers like Senator Elizabeth Warren called for more regulations against Wells Fargo.
Warren advocated for federal regulators to "break up" Wells Fargo, as the financial institution puts consumers at risk of fraud. Warren's claims come as regulators consider further orders against Wells Fargo due to its ongoing controversies and lawsuits. One such lawsuit relates to Wells Fargo's monitoring system and failure to prevent financial crimes within the institution.
One Wells Fargo user, attorney Matthew Beasley, faces multiple counts of wire fraud and money laundering for crimes he alleged committed using the financial institution's platform. According to authorities, Beasley convinced customers to invest in a fictitious personal injury firm. Beasley scammed potential investors out of $460 million and allegedly used Wells Fargo to receive their funds and spend them on personal items.
Authorities claim that Beasley bought himself cars, homes, and recreational vehicles with investor money. Wells Fargo faces four lawsuits relating to Beasley's Ponzi scheme due to its alleged complicity in the financial crimes. According to the plaintiffs, Wells Fargo failed to investigate Beasley's crimes and "aided and abetted" the scheme by failing to prevent it.
The lawsuit also alleges that Wells Fargo associates met with Beasley regularly, with one employee drinking with Beasley and attending sporting events with the alleged scammer. A Wells Fargo spokeswoman denies involvement in Beasley's alleged crimes and claims the financial institution cooperates with authorities in its ongoing investigation.
Copyright 2023, ConservativeInsider.org