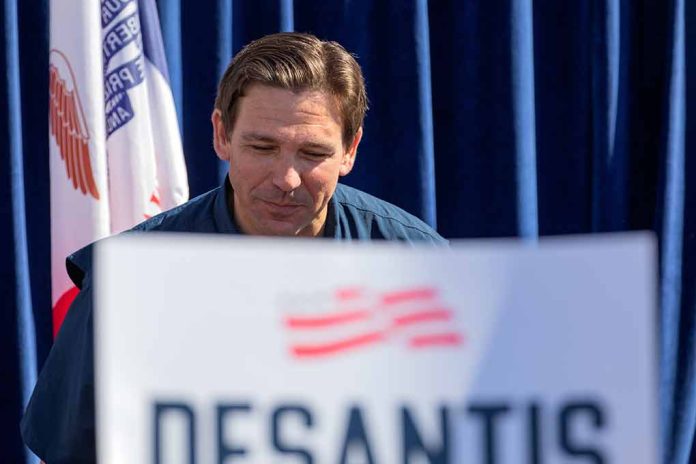 (ConservativeInsider.org) – On Monday evening, Iowa Governor Kim Reynolds cast her presidential endorsement for fellow governor, Ron DeSantis at in Des Moines, making a firm part with former president Donald Trump. The move comes as DeSantis hones his resources into Iowa -visiting 87 of Iowa's 99 counties- and Nikki Haley matches him in Iowa for second place.
Following a rally with the Florida governor, Reynolds posted her reasoning on X (Twitter), claiming that DeSantis is the candidate who "will have the moral conviction to do what's right," and is capable of fulfilling promises made to the American people.
As Iowans understand both the records of Reynolds and Trump firsthand, DeSantis must go the extra mile to prove himself in the Hawkeye state. This move may establish new firsthand trust where an Iowa voter may know their governor's impact but not Florida's.
Historically, Iowa governors do not commonly endorse presidential candidates, and the move is rare. Originally, Reynolds remained neutral to all Republican presidential hopefuls but, after a split with Trump, she put her chips behind a long-time ally over the 45th president.
A former Trump endorsee herself, it is clear that Reynolds relates to DeSantis in his humble climb to the highest executive office, as both lost favor with Trump despite running bombastically conservative administrations.
Within her own state, Governor Reynolds recently polled with a favorability of 81%, ranking her higher than any of the Republican presidential candidates. In the same poll, DeSantis pulled in a 66% favorability rating, barely scraping past Trump at a 65% favorability rating.
As the state- which commonly acts as a litmus test for America's presidential results- hangs in the balance, her endorsement could prove integral to both the state's and country's future, not to mention her own. With speculation circling regarding her own hopes of becoming a vice-presidential nominee, her altruistic behavior may prove to be a long-term investment.
Copyright 2023, ConservativeInsider.org