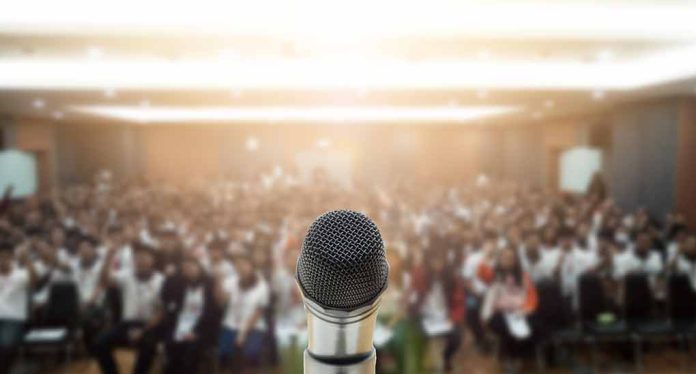 (ConservativeInsider.org) – At a press conference in Jacksonville, Florida, Governor and Republican Presidential Candidate Ron DeSantis dealt with a heckler head on.
The heckler at Culhane's Irish Pub attempted to blame Gov. DeSantis for the racially motivated shooting that left four dead in Jacksonville last month, claiming DeSantis "allowed" the shooting to happen. DeSantis stopped the heckler, who asked to be able to finish what he was saying, to which DeSantis said he wouldn't let the man accuse him of "committing criminal activity."
DeSantis pointed out that the Jacksonville shooter should have been ineligible to purchase a firearm in the state of Florida because he was taken in under the Baker Act, which allows authorities to involuntarily commit someone for up to 72 hours during a mental health crisis if they are perceived to be a threat to themselves or others. Allegedly, the shooter was not fully committed, which is why he was able to buy a gun before the shooting. DeSantis said he would not accept blame for the actions of a "madman."
Though the words of the heckler were inaudible on the video captured, at one point, multiple members of the crowd groaned, at which point DeSantis called the speaker's comments "nonsense."
The governor also highlighted the fact that Florida's crime rate is at a 50-year low. DeSantis emphasized that his policies have "allowed people to live in safety," and that throughout the United States, no one else has "done more to support law enforcement" than him.
The crowd at the event were more supportive of DeSantis than the heckler, cheering and applauding after DeSantis shut down the heckler.
Bryan Griffin, press secretary to Govenor DeSantis, shared a clip of the exchange on social media, praising how DeSantis handled the heckler. Griffin commented that the idea that everyone has their own truth is harmful to the country by destroying honest discourse, which further divides us as people. He commended Gov. DeSantis for reminding people that "there's only THE truth."
Copyright 2023, ConservativeInsider.org