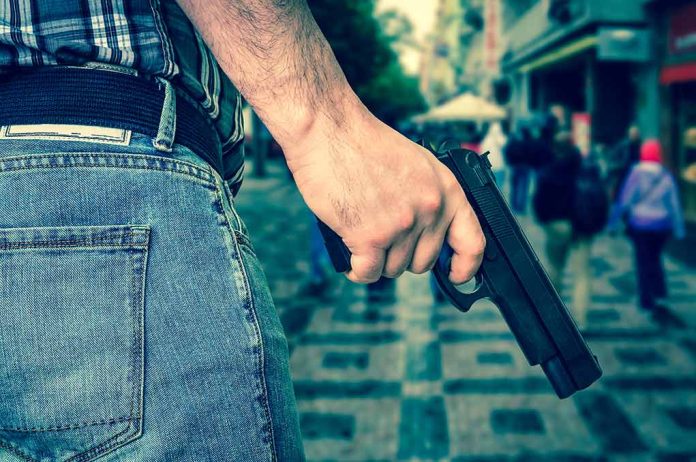 (ConservativeInsider.org) – An armed man dead from a self-inflicted gunshot wound was found in the bathroom of a Colorado adventure park last weekend with the message "I am not a killer" scrawled on the wall beside him, the Associated Press reported.
The body of Diego Barajas Medina, 20, was found Saturday morning by a maintenance worker from the Glenwood Caverns Adventure Park before opening. The Garfield County coroner said Medina died of a self-inflicted gunshot to the head.
In a press briefing on Monday, Sheriff Lou Vallario said Medina apparently gained access to the park while it was closed, carrying a semi-automatic rifle, a semi-automatic pistol, and improvised explosive devices.
Medina was dressed in tactical clothing and body armor when he was found. Near his body were the handgun and explosive devices, some fake and some real, Vallario said. The rifle was lying on a counter nearby along with a belt containing several magazines. While the message on the wall was likely written by Medina, the sheriff could not say for sure.
According to the sheriff, there were no immediate signs suggesting that Medina had been planning an attack, however, the investigation is still in the early stages and in-depth interviews still have to be conducted.
The FBI is assisting the investigation by reviewing Medina's social media accounts and phone records, Vallario said.
The sheriff said that the extent of Medina's preparations, along with the weapons and explosives, made it "highly likely" that he had planned an attack and then changed his mind.
Improvised explosives were also found in the vehicle Medina used. Police also searched the park for additional explosives, but none were found.
A search of his room in his mother's house turned up nothing to suggest explosives or bomb-making.
The 20-year-old Medina had no criminal record or previous encounters with police, the sheriff said.
Copyright 2023, ConservativeInsider.org