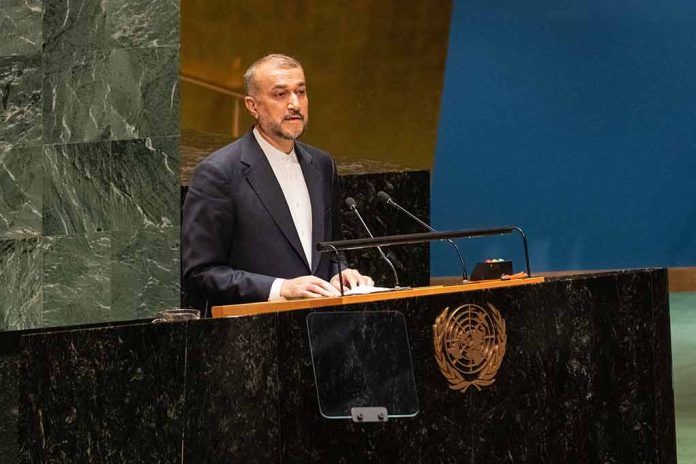 (ConservativeInsider.org) – The current Iranian regime is attempting to convince other countries to demand a ceasefire in Gaza, where Israel is attacking terrorist group Hamas.
The Foreign Minister of Iran, Hossein Amir-Abdollahian, sent a message to the foreign ministers of the BRICS nations, which are Brazil, Russia, India, China, and South Africa, asking for their support in pushing for a ceasefire in the Israeli and Palestinian conflict. According to a statement released by the Iranian foreign ministry, the messages called for "active, constructive, and responsible intervention" to stop the "crimes against humanity" occurring in Gaza.
The president of Iran, Ebrahim Raisi, appealed to Pope Francis as well, asking him to support the ceasefire by calling the Israeli attacks against Hamas "genocide" against Palestinians. During Raisi's call with the Pope, he said Israel was committing apartheid against Palestinian Muslims, asking Pope Francis to remind Western nations who is "the oppressor and the oppressed." Raisi did not mention the attack on Israeli soil by Hamas in early October.
Earlier this year, several countries, including Iran, were invited to join the BRICS coalition, alongside Egypt, Ethiopia, the United Arab Emirates (UAE), Argentina, and Saudi Arabia. Iran is set to become a member of the BRICS coalition in the beginning of 2024.
A resolution in the United Nations General Assembly to condemn Hamas was brought up after the October 7th Hamas attack, and BRICS member India abstained from voting on it. Over 40 member states of the UN, including all of the BRICS members, co-sponsored a resolution asking for a "sustained humanitarian truce" to stop the fighting in the Gaza Strip. China has called for a closed-door UN session to discuss the conflict in Gaza.
Reports vary on the number of casualties from the Israeli-Hamas conflict, but most newspapers are reporting that 1,400 Israelis died on the October 7th attack and nearly 10,000 Palestinians have died in the ensuing Israeli counterattack. Nearly 200 Israelis are still being held hostage by Hamas.
Copyright 2023, ConservativeInsider.org